It's that time of year again when I get asked many times, "will we have a cold, snowy winter?" Forecasting the weather for tomorrow isn't easy sometimes and looking way down the road trying to forecast for an entire season is even more difficult! When forecasting long range you have to look at trends that are going on across North America as well as trends in the Oceans.
Let's first look at the trends in the Oceans. In the Equatorial Eastern Pacific Ocean there's a moderate El Nino developing. El Nino is the warming of the Eastern Pacific, west of South America. Below is a map from NOAA showing an area of orange and yellow west of South America, along the Equator, that's the moderate El Nino going on. It started to develop in late spring and will continue in the fall and winter months.
So how does El Nino impact the weather? This warmer than average surface water temperature influences the jet stream, those fast moving winds in the upper atmosphere which move storm systems along. The hurricane season in the Atlantic this year hasn't been that active, due to El Nino. Those jet stream winds have helped to rip any would be tropical storm or hurricane from developing much and preventing the storms to strike the U.S.
In late fall and winter, El Nino causes an active sub tropical jet stream to develop. The sub tropical jet is the southern jet stream. During El Nino years this part of the jet brings a lot of rain from California, Texas and along the deep South and Gulf Coast. We're already seeing that lately as well! At the same time you tend to see warmer and drier conditions in the upper Mid West and northern U.S. But not in every El Nino though.
Another important factor to look at is the North Atlantic Oscillation (NAO). The NAO usually goes into either a positive or negative phase. If you're a fan of cold and snow like I am, then you would like to see the NAO in a negative phase. This occurs when you get a huge blocking high pressure system over the North Atlantic and Greenland. This blocks the cold air in Canada from going east. So the cold air must go south in the U.S. and over our local area! Pictured below is a diagram of what happens when you have a negative NAO.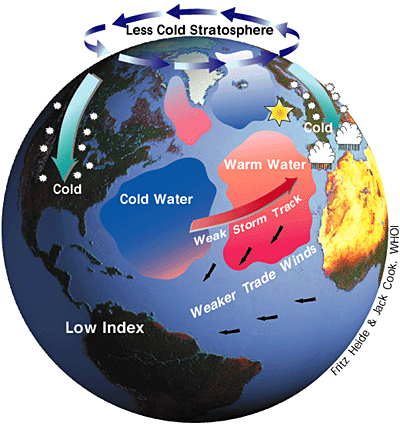 There's also factors you have to look at in the Northern Pacific Ocean, similar to the NAO. Usually when it's milder in Alaska, it's colder over our region. That's because as the cold air moves out of Alaska it moves southeast into central Canada and the eastern U.S.
One last very important factor to look at is how much snow is falling in Canada and how extensive is the snow pack. If you have a lot of snow during the autumn season in Canada then you get a lot more cold air which is able to build up and head south into the U.S. This year, we've seen a lot of snow so far in Canada and the northern U.S. along with unseasonably cold air.
As we know, we had a very wet late spring and summer with cooler temperatures. Just because you have a wet and cool summer DOES NOT always mean the following winter will be cold and filled with snow days. Many times a hot, dry summer is followed by a harsh winter. But again, not all the time though. One must look at the factors developing which I've talked about.
Okay so here it goes. You want to know will it be cold and snowy, right? Personally this meteorologist thinks we'll have a colder than average winter but also the wet weather pattern will continue. It's when the wet weather, the southern jet stream and northern jet stream meet up with the cold air that we get our big snows around here and I feel we have a good shot of at least getting one good snowstorm this winter!
Last winter Huntington got about 20" inches and Charleston got about 32" inches of snow from November 1st to April 1st. Many folks thought last winter was pretty harsh at times. This season, November 1st through April 1st, I'm predicting about 25" inches for Huntington and about 35" inches for Charleston. Of course more across interior Ohio and the mountains with less in the coal fields.
There you have it, my 2009-2010 snow prediction! Now if I could predict with 100% accuracy for an entire season at one time, I'd be making millions on Wall Street (as Tony Cavalier likes to say).
Some meteorologists will say we'll have more or less snow. But that's what makes this job fun sometimes.
Keep those great questions coming and be sure to post your comments below. Thanks for reading!
Update: We're going to have a special weather segment on Thanksgiving Day again this year with a look back at some of the harshest winters this region has had, along with safety tips.
Follow me on twitter: twitter.com/fitzpatrickjosh and facebook!