One of my favorite things to do besides predicting the weather for our huge three state area is actually getting out, traveling and visiting the folks in our region! The best way to do that for me is with school visits. I try to get to as many as I can this time of year.
On Monday, March 29th I visited Mrs. Herbert's fourth grade class at Meadows Elementary School in Huntington. Below is a group photo of us.
What a great group of students! I want to thank Marshall student teacher Courtney Porter for inviting me. We talked all about earthquakes, tsunami's, hurricanes, snowstorms, flooding, thunderstorms and tornadoes.
I explained to them how we're entering the severe weather season. Where a bright sunshiny day can quickly turn stormy. Here's a list of tornado facts.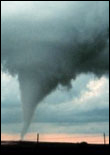 A tornado is a dark funnel-shaped cloud made up of violently rotating winds that can reach speeds of up to 300 m.p.h. The diameter of a tornado can vary between a few feet and a mile, and its track can extend from less than a mile to several hundred miles. Tornadoes generally travel in a northeast direction (depending on the prevailing winds) at speeds ranging from 20-60 m.p.h.
What Causes a Tornado?
Tornadoes are most often spawned by giant thunderstorms known as "supercells." These powerful, highly organized storms form when warm, moist air along the ground rushes upward, meeting cooler, drier air. As the rising warm air cools, the moisture it carries condenses, forming a massive thundercloud, sometimes growing to as much as 50,000 ft. in height. Variable winds at different levels of the atmosphere feed the updraft and cause the formation of the tornado's characteristic funnel shape.
Where Do Tornadoes Occur?
The conditions that lead to the formation of tornadoes are most often met in the central and southern U.S., where warm, humid air from the Gulf of Mexico collides with cool, dry air from the Rockies and Canada. This area, dubbed "tornado alley," extends roughly from the Rocky Mountains to the Appalachians, and from Iowa and Nebraska to the Gulf of Mexico. Tornadoes can also occur elsewhere, though, including all U.S. states, Europe, Asia, and Australia.
After my visit to Meadows, I made the two hour drive up to Spencer, WV where I read "Pickles to Pittsburgh" to Mrs. Atkins first grade class at Spencer Elementary School in Roane County. Below is a photo.
After I read the story to them, they had a list of about 20 weather questions for me. I must say, kids these days are smarter and are doing more hands on learning than what I did at that age. Keep up the great work and have a fun spring break!
Thanks for reading and post your comments below.