We're now passing the heart of hurricane season. So far in 2013 it's been overall a quiet season. But 24 years ago this month a powerful hurricane named Hugo was about to strike!
Hurricane Hugo is the most intense hurricane to strike the United States Atlantic coast north of Florida on record. Along the Unites States east coast, north of Florida. No hurricane has ever recorded a lower pressure, stronger winds, or a greater storm surge in this part of the country than hurricane Hugo in 1989. The only hurricane that approaches Hugo's stature in the 20th century along the North and South Carolina coast is hurricane Hazel of 1954.

For twelve days in September 1989, hurricane Hugo captured the attention of millions of people across the Caribbean and the eastern United States. Hugo traveled more than a thousand miles with great intensity. On September 22, five days after Hugo had left Guadeloupe and Montserrat in shambles, the cyclone was 1,500 miles away battering the U.S. mainland in South Carolina with 140 mph winds. In terms of size, intensity, duration, and destruction, hurricane Hugo is one of the greatest storms to ever affect the Caribbean and the U.S. mainland.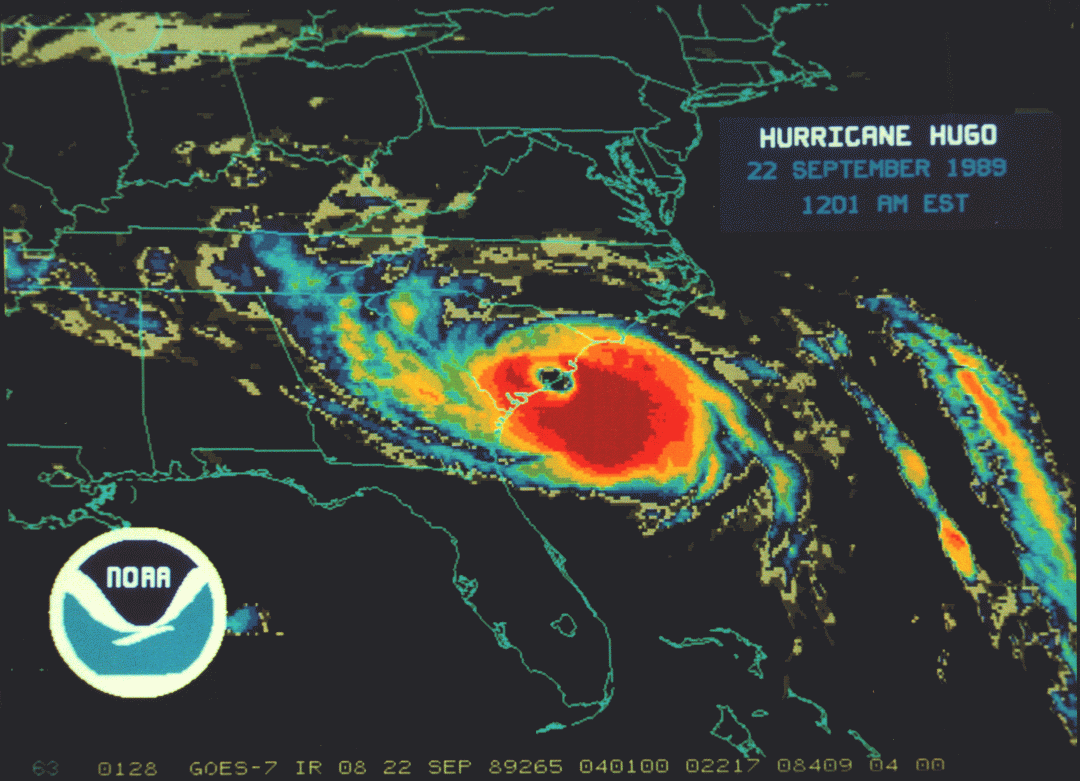 On September 20th hurricane Hugo continued moving northwest just to the east of the Bahamas in the direction of the U.S. mainland. The National Hurricane Center estimated Hugo would strike the United States in South Carolina and hurricane warnings were issued. An estimated 250,000 people fled the low lying areas of Georgia, South Carolina and southern North Carolina in advance of Hugo. As Hugo continued moving northwesterly, the storm begin to grow in size and intensity over the warm waters of the Gulf Stream. Incredibly in the final ten hours before landfall, Hugo rapidly strengthened to a category four hurricane with sustained winds of 140 mph. The eye of Hugo passed over Sullivan's Island, South Carolina near midnight on September 21st. Hugo was the first major hurricane to cross the South Carolina coast since Gracie in 1959.
Almost two hundred miles inland Hugo still had 100 mph wind gusts. The major metropolitan area of Charlotte, North Carolina suffered extensive damage. Thousands of large trees fell into homes and business around Charlotte and glass was shattered in downtown skyscrapers. Torrential rains in Virginia flooded roads and cut power to 2 million people. Hugo also impacted our local weather by bringing gusty winds and heavy rains. By late on September 22nd, Hugo finally died over the cool forests of southern Canada.
Hugo's name was retired and replaced with Humberto starting with the 1995 season.
Do you remember this storm? Post your comments below.