Many of you may remember the great blizzard of March 1993 which paralyzed our region with up to two feet or more of snow and snow drifts up to six feet high. It was that storm that got me hooked on meteorology and is why I'm a meteorologist today.
Before the 1993 "storm of the century" there was a similar storm during March of 1888 which was worse and it's known as the worst blizzard to ever impact the United States.
So what exactly makes a blizzard? Well a winter storm must meet certain qualifications to be characterized as an official blizzard. In a blizzard, visibility is reduced to a quarter of a mile or less from falling and or blowing snow and the wind speed is at least thirty-five miles an hour for no less than three hours.
Blizzards have struck without warning throughout the history of the United States, killing hundreds, stranding thousands, and demonstrating nature's awesome power. These ferocious storms are capable of paralyzing entire sections of the country even today.
Below are rare photos from this massive blizzard.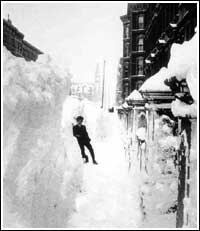 The Blizzard of 1888 has been called "The Great White Hurricane" and for good reason. Starting on March 12th and ending on the 14th, this colossal blizzard left snow drifts in some places that were fifty feet high. The East Coast from Maryland to the Canadian Maritimes was absolutely brought to a stop by this blizzard. The existing telegraph system was destroyed, cutting the major cities off from the outside world for days. Two hundred ships were lost at sea or in harbors and over one hundred seaman perished. Fire stations could not get their apparatus out onto the street, so the fire damage alone was estimated to be more than twenty five million dollars. New York City saw a hundred people die and in all, four hundred met their end during this blizzard. Fifty inches of snow fell in parts of Massachusetts and Connecticut and the forty plus that blanketed New York caused the city to build their underground subway system to avoid future disasters such as this one.
Blizzards of this magnitude are rare. The last time our region had a full blown, true blizzard was way back in January of 1996! Do you think we're over due?
Share your blizzard stories, post them in the comment section below! I would love to hear from you.
Join my WSAZ Facebook page: www.facebook.com/pages/Josh-Fitzpatrick-fan-page/362878134573
Follow me on Twitter: twitter.com/weatherjoshfitz
Thanks for reading.