We've had several rounds of wintry precipitation the past several weeks. It's been in mostly snow form but some of you had sleet and freezing rain recently.
I got an e-mail the other day from a viewer who asks: "How can it rain when the temperature is 30 degrees? Why wasn't it snow?"
That's a very good question! It's a little complicated but it all has to do with the temperature profile of the lower atmosphere. Below you'll find a graphic to illustrate this temperature profile and the different precipitation it brings.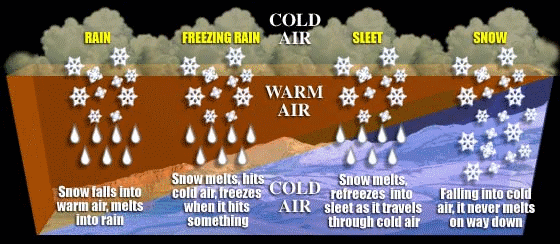 Nearly all precipitation, especially in winter starts out as snow in the clouds. But if there's a very thick layer of warm air, above 32 degrees the snow will melt into all rain.
If there's a shallow layer of cold air, below 32 degrees at the surface and rain drops fall through this thin layer of cold air the rain will become what is known as super cooled. Meaning the rain drops cool to 32 degrees or below but doesn't yet freeze. They freeze upon impact with a surface that's at or below freezing and forms a glaze of ice. This is called freezing rain and it's the most dangerous and damaging of all winter precipitation.
Below are a couple of pictures I took during the massive ice storm which hit during the Presidents Day weekend of 2003 in Gallia County. Most of Southern Ohio, Northern Kentucky and Northern West Virginia lost power for several days due to more than 25 hours of freezing rain!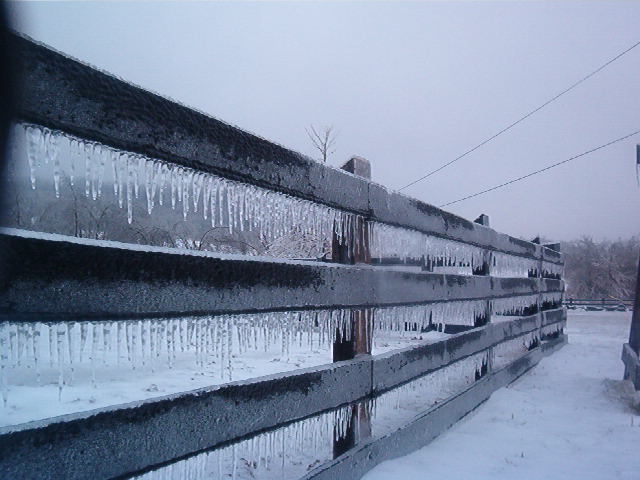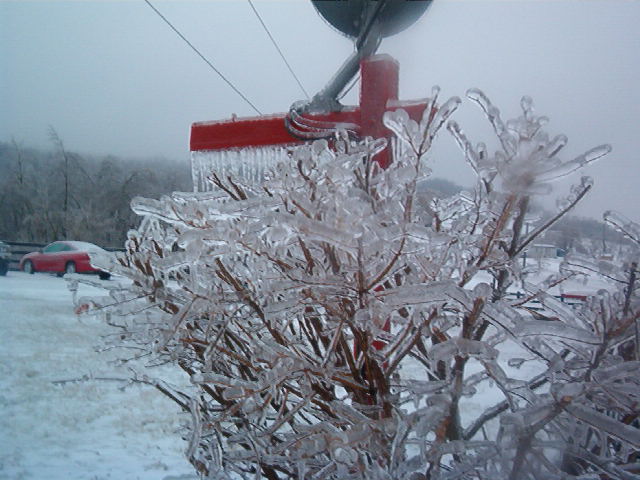 Sleet is different from freezing rain. Sleet is basically frozen rain drops. When rain falls into a thicker layer of subfreezing air the drops freeze forming sleet.
You get snow when the temperature is at or below freezing from the cloud to the surface. Although it can snow at temperatures higher than 32 degrees at ground level. But only if it's a shallow layer of above freezing temperatures as the snow flakes won't have time to melt into rain before reaching the ground. Of course in order for snow to stick and accumulate the surface temperature must be at or below freezing.
Share your experience during the ice storm of 2003. Post it in the comment section below.
Join my Facebook page: http://www.facebook.com/?ref=home#!/pages/Josh-Fitzpatrick-fan-page/362878134573
Follow me on Twitter: twitter.com/weatherjoshfitz