After some of the nicest weather you'll just about ever see in late July, it's time to give back a little bit. A storm system approaches from the west that will bring showers and thunderstorms to town. Here is the rainfall projection from the event:
The heavier showers are targeting the southern half of our area, along and south of I-64. The potential is there for many folks to come away with more than an inch of rain, and wherever the concentrations are more than that may have those water problems in the typical poor drainage areas. Flash flood guidance is up above 2"+ in a 1-3 hour period, so widespread risks of that kind of thing look low. Despite the small dry spell we've had, much of the tri-state is going to finish the month with a well-above normal 7-8" of rain.
The initial burst of rain comes in during the morning and slowly slogs through the afternoon. Here's the NAM with more:
Showers are already running ahead of schedule compared to this model, having crossed the Big Sandy River at about 1am. However, it's still moving rather lethargically. Folks planning on heading out to the Gallia County jr. fair, the Braxton County fair, or the Cherry River festival may not want to cancel just yet, as the best rains are angling south of you. Never underestimate the advantage of shorter lines too ;-)
The trailing cold front comes across on Thursday, so we'll see some more showers in the mix then as well. The Storm Prediction Center does not see a high severe weather potential with either pulse of moisture, so for most of us we'll just be expecting a garden-friendly event.

After a nice little breather Friday (another good day with seasonably cool temperatures), we'll be watching more showers returning on the weekend. This next event also looks a little touchy for the large tri-state area we cover, with parts of our region targeted more than others. Here's the GFS on Saturday evening:
GFS - 700mb Chart - Saturday Evening
There is a plume of moisture working through the mid-levels of the atmosphere Saturday, but it is closely bordered by a bunch of dry air as well. The southern and eastern mountain counties get the bulk of the showers here, with the drier air headed in to help make Sunday salvageable.
The trend of seasonably cool temperatures continues right through the 7-day period. See below (and no complaining!) ;-)
Regional Radar/Satellite with Warnings Tracking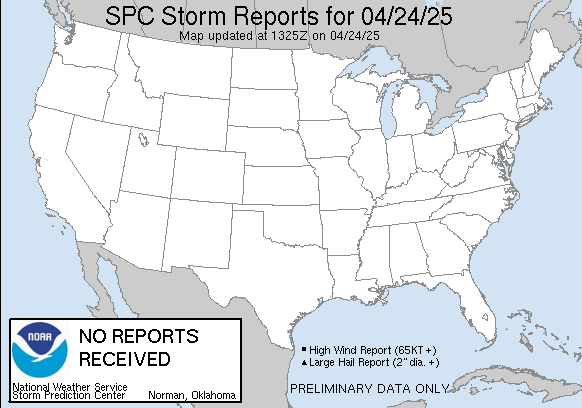 Have a great day everyone!
-B
Facebook: www.facebook.com/BrandonButcherWeather
Twitter: www.twitter.com/WSAZBrandon