The cold front that brought the showers and storms through late in the day Tuesday is trying to make it across the Appalachian Mountains Wednesday. In typical fashion, this is going to be somewhat of a struggle, but there are indications that this time we'll have some success. Like Tuesday though, it'll be a little slow out of the gates.
HPC - Surface Map - Wednesday
The southern and eastern zones are the most favored areas for the early day low clouds, fog, drizzle, and overall sluggishness before better skies move in later on.
One of the indicators I've used in the past to gauge the intensity of any possible clear-out is the 700mb charts because if its modeling of the relative humidity at what normally is precipitating cloud level (~10,000 ft). Yes, there can always be low level moisture trapped below this level underneath an inversion and such, but to a large-scale approximation it's a good sign whenever we score low relative humidities at this altitude.
GFS 700mb Charts
There's a nice little plume of <30% RH's rotating through during the Thursday/Friday time-frame. Not quite 10%, but better than it could be. Another indicator that we can use sometimes is the low temperature readings for the mornings ahead. Check out the 7-Day Forecast image below. It's been a while since we've dipped into the upper 50s-- a much better "sleeping weather" type temperature. The campers out there will even don the long sleeves to start the day.
HPC - Rainfall Projection - Through Friday PM
Things are looking up for the Tri-State :-) Highs in the low 80s, morning temperatures scraping the 50s... Dry... Can't argue with that in late July.
Enjoy it while it lasts though, because showers are on the way back for the weekend, making things a little iffy...
GFS - Saturday Evening
...Looks like typical stuff here: A break-away line of showers and storms out ahead of an approaching front, and then the front itself. Something to keep an eye on.
Regional Radar/Satellite with Warnings Tracking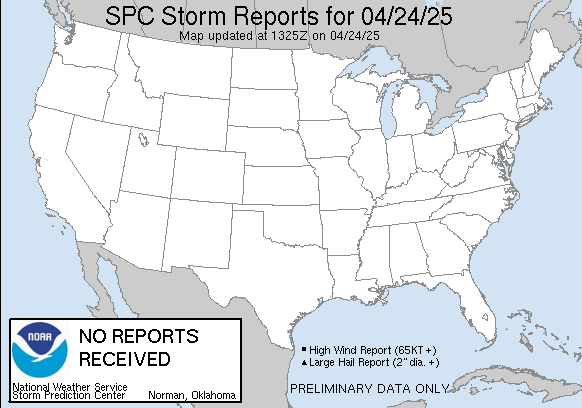 Have a great day everyone!
-B
Facebook: www.facebook.com/BrandonButcherWeather
Twitter: www.twitter.com/WSAZBrandon