Welcome to Wednesday!
Temperatures again soared yesterday, with highs hitting 94° in Huntington and 93° in Charleston. Just like the days before it, we have established a new "highest temperature of the season" for many locations across the tri-state. This is a reason why this heat wave, though quite marginal by comparison to last year, is still quite oppressive. [Just for comparison sake, Abadan, Iran hit 122°F...oh, and Davis station in Antarctica hit -107°F ;-) ]
High pressure continues to dominate the weather pattern locally, and there's little to expect in the way of change. Temperatures stay up there, and untapped humidity continues to steam the Heat Index higher. Today and tomorrow may be particularly oppressive with the Heat Index getting over 100° for several hours of the afternoon.
Check out the current temperatures on the maps below when we get to the afternoon.
Here's today's GFS model presentation of our 500mb ridge-- still in tact from yesterday.
Remember, lop off the first number, and you're left with "94", a great ball-park measure of what the surface temperature is going to be.
Yesterday we got a few storms to pop in the mountain counties. That should spread a bit further today, getting a few more of us a shot at "nature's air conditioners".
HPC - Rainfall Projection - 48hours
Once again our convection will be focused in the mountains, then trickle westward toward the lowlands as the sunset. The above map smears things around a little bit... Think more of clusters of 1/2"+ rainfall with most others getting nothing.
This cycle of the isolated afternoon storm (focused in the mountains but gradually spreading to the lowlands) continues each day forward until we can finally get a front in here to settle things.
That happens Saturday afternoon.
GFS - Saturday Afternoon
We'll be watching once again for widespread thunderstorms, downpours, spot flooding, and all the rest. It'd be nice to salvage part of the weekend, but at this point Saturday and parts of Sunday features the best risk for gully-washers.
CPC - 6 to 10 day Temperature Outlook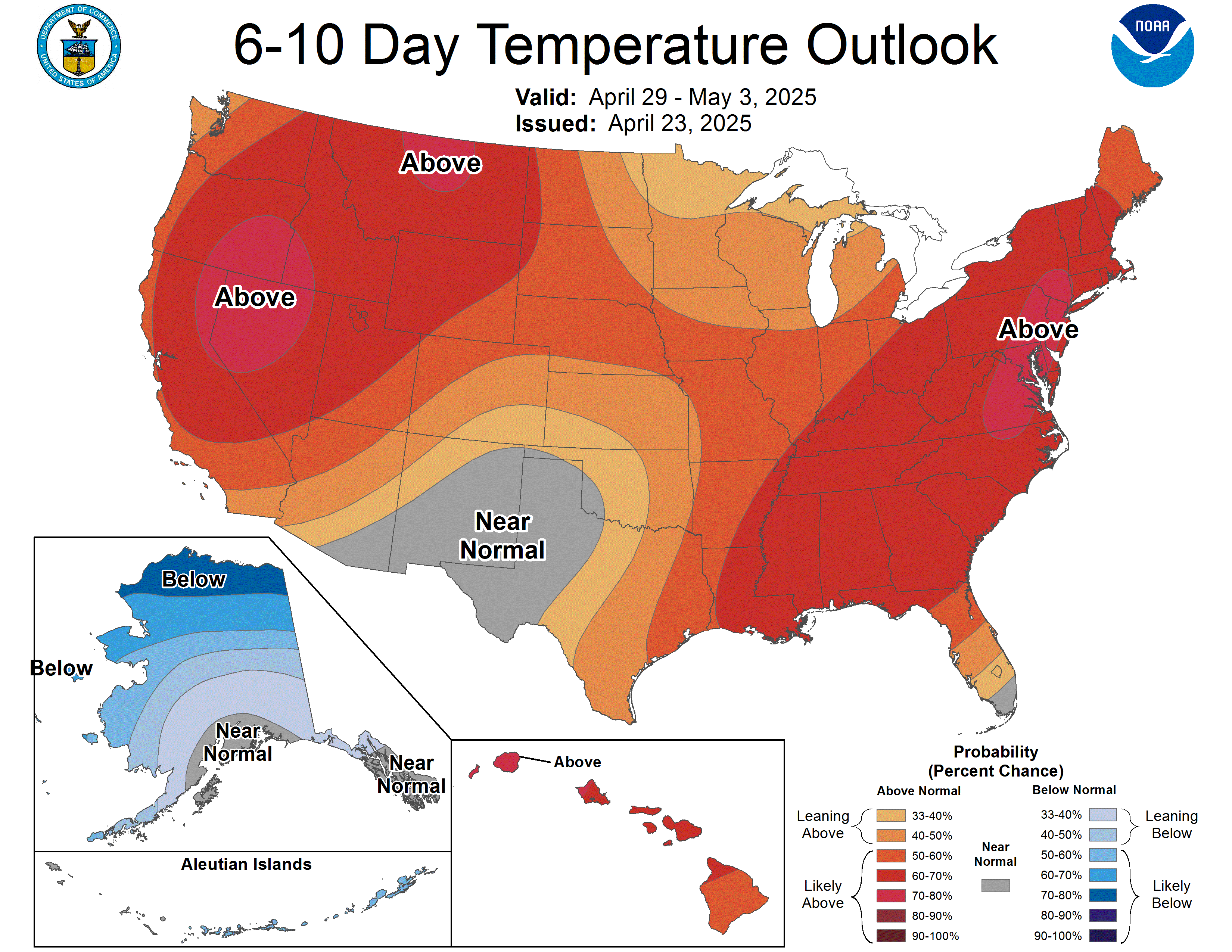 So far, the future is looking 'normal', but during the Dog Days of summer, 'normal' is pretty hot.
Update (11:00am) - The National Weather Service has indeed issued that Heat Advisory for parts of our area this afternoon, from 2-6pm.
Heat Index values are expected to crest above 100°F for a while this afternoon for the counties in orange, but don't let that make you think it's 'cool' anywhere else. Here are some tips to employ during these situations to help everyone stay safe:
Limit the amount of time you spend outside, take frequent breaks if you are, and find air conditioned places to stay cool (many public buildings can help here).

If A/C is unavailable, try the basement or lowest floor of your house away from sun-filled windows.

Even if you're not thirsty, drink plenty of hydrating fluids (ie., water not beer).

Eat smaller meals, as a large apetite can lead to a warm body metabolizing.

Look after the elderly, and be mindful of the signs of sunburn or dehydration in children.

Keep the pets indoors as much as you can-- if you're hot, they're sweltering!
-----------------------------------------
Have a great day everyone!
-B
Facebook: www.facebook.com/BrandonButcherWeather
Twitter: www.twitter.com/WSAZBrandon