Hellooo Tuesday!
I wish I had a better weather story for you today... but I think this song sort-of sums it up:
Perhaps we could change it to "Annoying low pressure in the mid-levels of the atmosphere"....keeps on turning, but yeah, anyway...
Another day of swatting away scattered clouds and afternoon showers-- unfortunately there's just no way around it. The good news is that the showers won't last too long where they hit and will primarily be confined to the mountains. Here's what the NAM is seeing:
| | |
| --- | --- |
| NAM - Tuesday PM | NAM - Wednesday PM |
| | |
These kinds of days produce the most annoying (have I said that word yet?) kinds of forecasts: "Periods of clouds with scattered afternoon showers". It just can't get any more specific than that, but a lot of folks out there demand more precision because they are painting the house this week :-) The farther away from the mountains you are, the better luck you will have avoiding rainfall, but the clouds are still a crap-shoot.
You'll want to wish for sunlight at least at sunset though, because the famed "Transit of Venus" occurs TONIGHT!
---Astronomy Tangent (ignore if uninterested)---
The "Transit of Venus" is a peculiar astronomical phenomenon for several reasons: (a) It occurs in pairs, with two possible viewings in a few years time, and then doesn't happen again for 100 years or so; (b) you can't see it with the naked eye, which reduces the mass excitement appeal; (c) It's got a lot of astrologically-minded folks spooked, not the least of whom was the ancient Mayan civilization that apparently was able to track all this despite point (b)-- not bad eh?
So, what is the "Transit of Venus"? It is when the planet Venus actually crosses in front of the Sun during the day. It'd look like a little dot moving across the sphere of the Sun, provided you had some way of viewing it that didn't burn out your retina (ie, don't stare at the Sun directly to see this-- especially with a camera or telescope!). Here's a picture of what it looked like the last time it happened, back in 2004: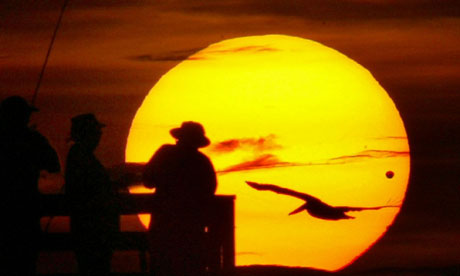 This was taken off a pier in Florida. Venus is the little dot in the middle-right of the Sun. In some respects, it doesn't look like a big deal, but because it rarely happens it's something you want to see-- like a Haley's Comet kind of thing.
(My brother and sister and I all sat up all night looking for that thing with my Dad. They all saw it and were all happy-- meanwhile I could never find it with the same telescope looking at the same place, etc. etc. Not bitter about it. I'll get another crack at it, when I'm in my 80s!)
So yeah, I don't want to miss this thing either, because it's not coming back until 2117. In our area, we can view it close to sunset until the Sun sets-- if we get the clouds to cooperate. Here's what the maps look like for then:
| | |
| --- | --- |
| NAM - Cloud Cover - Tuesday PM | NAM - SimRadar - Tuesday 8pm |
| | |
So yeah, kind of a mess here and there. Might I suggest catching the NASA feed on this historic event as they will be live from the Mauna Kea Observatory in Hawaii. It will be streaming live around 6pm our time. Here's the link:
http://venustransit.nasa.gov/webcasts/nasaedge/
---End Tangent---
One of the silver linings of such a stubborn weather pattern is that, once progressed to bother somebody else, we can tap into its stubborness to our advantage-- namely to get some sunshine around here to stick around just when we want it. And the early indications are that this weekend is going to be looking a whole lot better than this early part of the week.
| | |
| --- | --- |
| GFS - Saturday PM | GFS - Sunday PM |
| | |
We can even see the 20-C line sneaking back into the picture there on Sunday. This is at the 850mb level and would translate to numbers getting back into the mid/upper 80s. I think by then there'll be a few folks that wouldn't mind getting the summer back into June :-)
| | |
| --- | --- |
| Regional Radar/Satellite with Warnings Tracking | Accuweather Radar |
| | |
From the Storm Prediction Center (below): Click For a Larger Image
| | | | | |
| --- | --- | --- | --- | --- |
| Activity Overview | Storm Outlook | Watches | Potential Watches | Storm Reports |
| | | | | |
| | | | |
| --- | --- | --- | --- |
| Temperatures | HD Doppler Radar | Estimated Rainfall | Active Warnings |
| | | | |
| Click For Larger | Click For Interactive Radar | Click For Larger | Click For Larger |
Have a great day everyone!
-B
Facebook: www.facebook.com/BrandonButcherWeather
Twitter: www.twitter.com/WSAZBrandon