1:30pm Update

Good Monday to one and all. We're coming off a wild weather night across the tri state that felt more like May than January. A squall line of thunderstorms rolled through here bringing gusty winds and heavy rain.
Where do we go from here? Let's break it down with the headlines.
- Winds will continue to crank up this afternoon and may reach 40-50mph at times.
- Things finally begin to calm down overnight into Tuesday.
- Slow moving upper level low across the south will throw rain our way for Wednesday into Thursday.
- A deep trough will be digging into the central and eastern part of the country late week into the weekend and will bring winter back in.
- What kind of interaction will we get from our southern system and the trough digging in? Some models suggest not much , while others show the two getting together with a storm working up the east coast.
- Even if there isn't a big storm… that's a pattern to get a few snow systems diving in from the northwest.
Have a great Monday and take care.
2:30am Update

Good morning. A new SEVERE THUNDERSTORM WATCH IS now out for much of eastern Kentucky and southern Ohio until 9am. A squall line of thunderstorms continues to work eastward across the state with damaging winds the main threat. An isolated tornado and large hail are also possible.
Here's a look at the watch outline…
This map allows you to track the current warnings…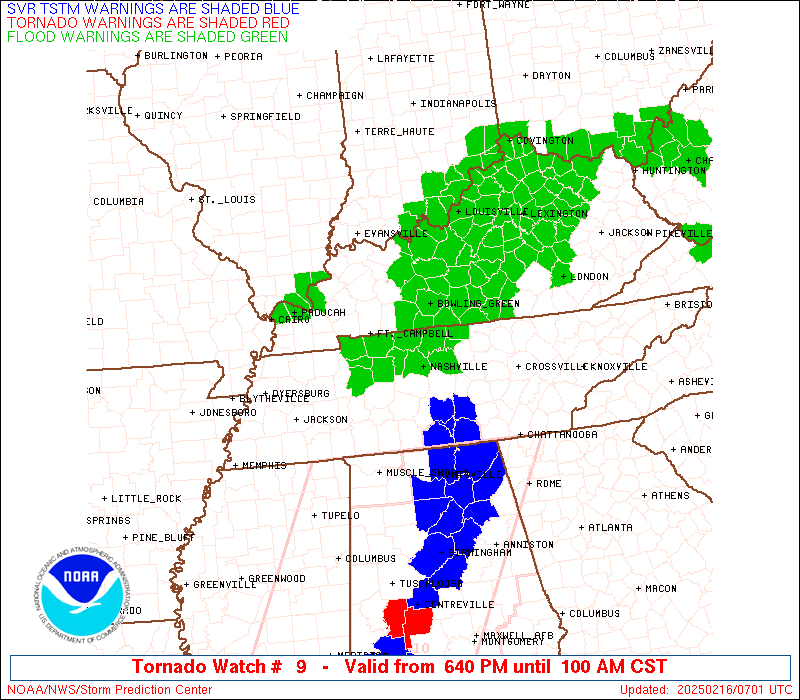 I will update things as needed and continue to tweet the latest warnings. Take care.
Previous Update
Good Monday everyone. We have a strong cold front working across the region early today and this is touching off showers and thunderstorms. A few of the storms may be strong or severe with damaging winds the primary threat.

I have the blog set up for all your tracking needs...

Current Risk
Post the weather from where you live and I will have another update on our week ahead weather later today. Have a great Monday and take care.