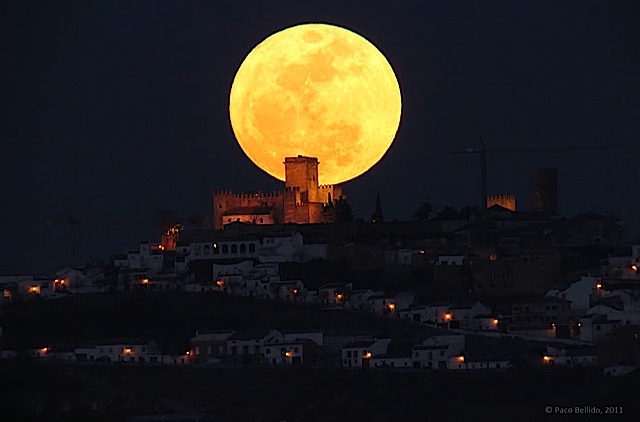 The fulll moon falls on June 23 7:32 a.m. For many, the moon appears about as full in the June 22 evening sky as it does on the evening of June 23. This full moon is not only the closest and largest full moon of the year. It also presents the moon's closest encounter with Earth for all of 2013. The moon will not be so close again until August, 2014. In other words, it's not just a supermoon. It's the closest supermoon of 2013.
We astronomers call this sort of close full moon a perigee full moon. The word perigee describes the moon's closest point to Earth for a given month. Two years ago, when the closest and largest full moon fell on March 19, 2011, many used the term supermoon, which we'd never heard before.
Last year, we heard this term again to describe the year's closest full moon on May 6, 2012. Now the term supermoon is being used a lot. Last month's full moon – May 24-25, 2013 – was also a supermoon. But the June full moon is even more super! In other words, the time of full moon falls even closer to the time of perigee, the moon's closest point to Earth. The crest of the moon's full phase in June 2013 and perigee, fall within an hour of each other.
So now you know!
Follow me on Facebook: facebook.com/joshfitzwsaz
Follow me on Twitter: twitter.com/wsazjoshfitz
Follow me on Instagram: @WSAZJoshFitzpatrick