Kentucky releases 2020-2021 basketball schedule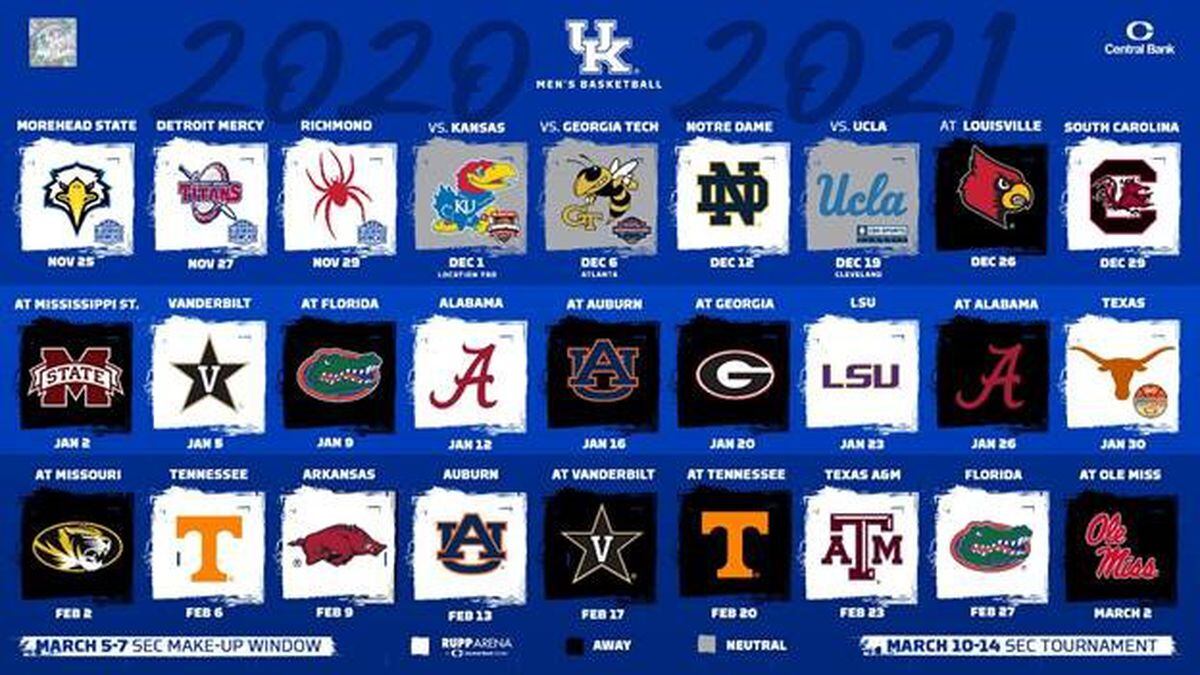 Published: Nov. 6, 2020 at 1:07 PM EST
LEXINGTON, Ky. (WSAZ) - November 25th is when the Kentucky basketball season will begin with a home game against Morehead State as the school announced their full schedule Friday afternoon. The non-conference games are loaded with games against Kansas, Georgia Tech, Notre Dame, UCLA and at Louisville. The SEC schedule begins on December 29th as they host South Carolina.
Here's the full 2020-2021 schedule
November 25th Morehead State
November 27th Detroit Mercy
November 29th Richmond
December 1st Kansas SITE TBD
December 6th Georgia Tech at Atlanta
December 12th Notre Dame
December 19th UCLA at Cleveland
December 26th at Louisville
December 29th South Carolina
January 2nd at Mississippi State
January 5th Vanderbilt
January 9th at Florida
January 12th Alabama
January 16th at Auburn
January 20th at Georgia
January 23rd LSU
January 26th at Alabama
January 30th Texas
February 2nd at Missouri
February 6th Tennessee
February 9th Arkansas
February 13th Auburn
February 17th at Vanderbilt
February 20th at Tennessee
February 23rd Texas A&M
February 27th Florida
March 2nd Ole Miss
March 5-7 SEC MAKE-UP WINDOW
March 10-14 SEC TOURNAMENT
Copyright 2020 WSAZ. All rights reserved.