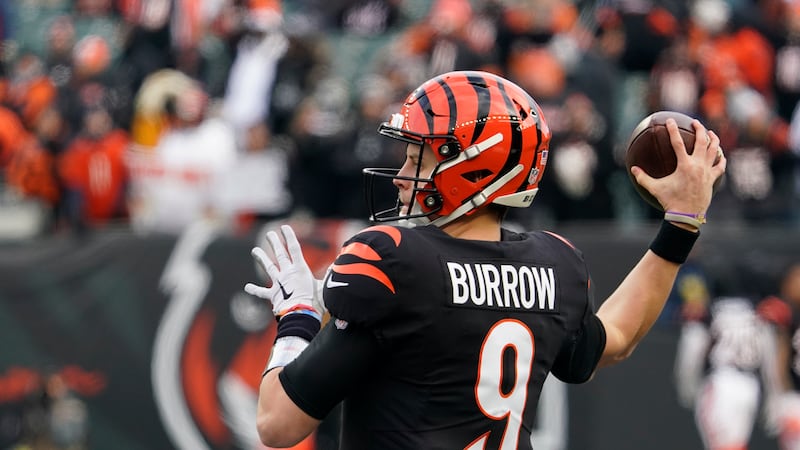 Published: Jan. 15, 2022 at 10:13 PM EST
CINCINNATI (AP) — Paul Brown Stadium nearly shook in triumph. The city of Cincinnati might have, too. Its latest hero, Bengals quarterback Joe Burrow, merely seemed to shrug after leading his team to its first playoff victory in 31 years, 26-19 over Las Vegas on Saturday in an AFC wild-card game.
"It's exciting for the city, for the state, but we are not going to dwell on that, we are moving forward," said Burrow, who threw two touchdown passes. "This is expected, this isn't like the icing on top of the cake, this is the cake. So we are moving on."
Burrow led an efficient offense that scored on six drives, Evan McPherson became the first rookie to make four field goals without a miss in a postseason debut, and Germaine Pratt sealed it with a fourth-down interception in the dying seconds.
It was a victory three decades in the making for the Bengals (11-7). After going from worst to first in the AFC North with a generally young roster, they ended that embarrassingly long postseason drought that included eight consecutive defeats.
"Who Dey" indeed.
Coach Zac Taylor said game balls were going to team owner Mike Brown and to the city itself.
"Some of them might not understand the significance of what happened today," he said of his players. "The city can finally enjoy ... this team and take the pressure off of the last 31 years. Today was significant for a lot of people."
Their next opponent will depend on results in the other two AFC wild-card games this weekend.
"It's going to be fun tomorrow to watch the games knowing we have the win," said Burrow, the top overall selection in the 2020 draft who led the NFL in completion percentage this season. He went 24 for 34 for 244 yards Saturday.
Copyright 2022 WSAZ. All rights reserved.