EMS workers charged with murder after patient dies at hospital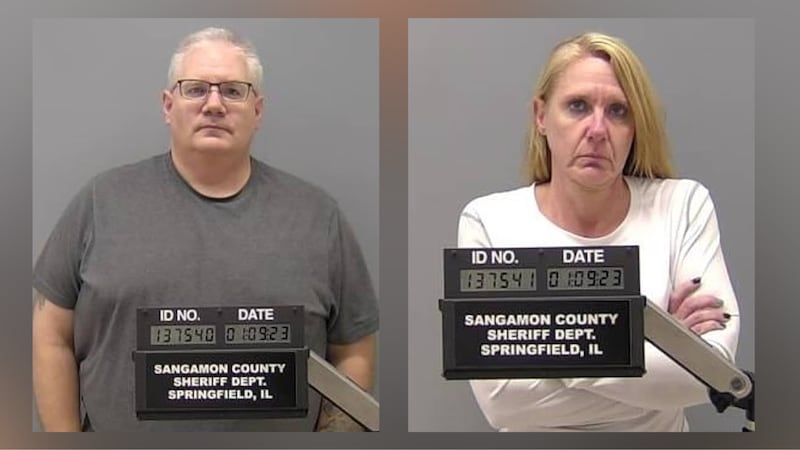 Published: Jan. 11, 2023 at 6:54 PM EST
SANGAMON COUNTY, Ill. (Gray News) - Illinois authorities say two emergency medical service workers are facing first-degree murder charges in the death of a patient.
On Tuesday, Sangamon County authorities held a joint press conference explaining the arrest of EMS workers Peter Cadigan, 50, and Peggy Finley, 44, after the death of 35-year-old Earl Moore Jr. on Dec. 18, 2022.
Authorities said the medical workers incorrectly placed Moore face down on a paramedic stretcher with a medical strap across his back while transporting him to the hospital.
Sangamon County Coroner Jim Allmon said Moore was pronounced deceased shortly after arriving at the hospital.
According to Allmon, an autopsy revealed that Moore died from "compressional and positional asphyxia due to prone face-down restraint on a paramedic transportation cot/stretcher by tightened straps across the back."
The county coroner said Moore's death has been ruled a homicide.
Sangamon County State's Attorney Dan Wright said Moore was being transported to the hospital after police found him to be in medical distress at this home.
However, Moore ended up dying and Wright said the EMS team should have known from their training that positioning a patient in such a way would create a substantial probability of great bodily harm or death.
Authorities said Cadigan and Finley were booked into the Sangamon County Jail on a $1 million bond each where they both are facing a first-degree murder charge.
Sangamon County authorities said the incident remains under investigation but both EMS workers are facing up to 60 years in prison if found guilty.
Copyright 2023 Gray Media Group, Inc. All rights reserved.