'This teacher overreacted': Student sues over suspension for wearing pro-2nd Amendment T-shirt
Published: Feb. 9, 2023 at 4:45 PM EST
|
Updated: Feb. 9, 2023 at 5:47 PM EST
JOHNSTON, Iowa (KCCI) - An Iowa student is suing her school district and teacher after being suspended for wearing a shirt with a picture of a gun on it.
The T-shirt in question has a graphic of a 2nd Amendment quote and a picture of a rifle.
The shirt itself reportedly did not seem to have other students up in arms.
"No, I mean it's just a shirt. It would be a different story if it was an actual gun, but like it's just a shirt," one student said. "I don't find it offensive at all."
The shirt was worn by a student who was a minor in Thomas Griffin's government class at Johnston High School on Sept. 1.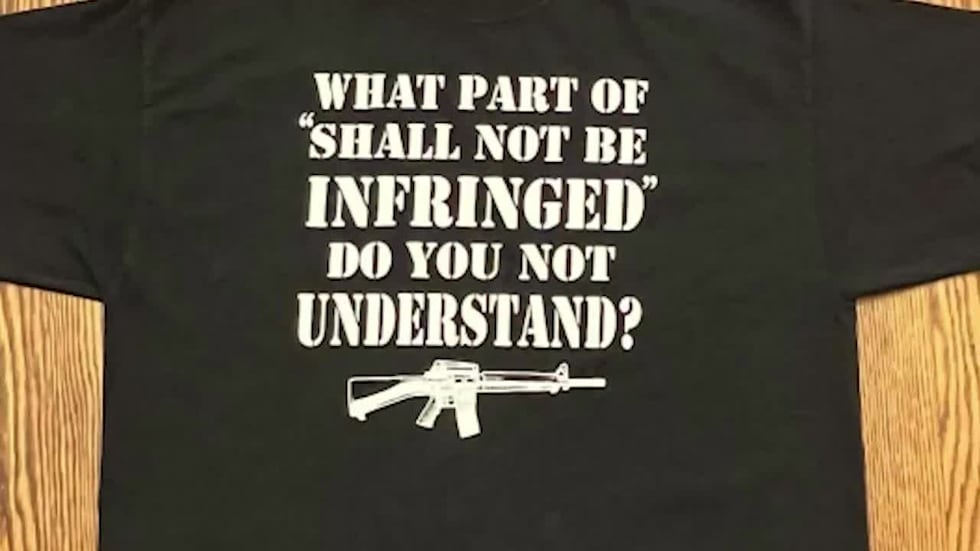 According to the court filing, two days after the students had a free speech discussion in the class, Griffin told students their free speech was extremely limited on school property and the teacher decided what is acceptable in the classroom. He also said he would not allow students to wear clothing that depicts guns.
The student believed Griffin was wrong about the First Amendment and wore the T-shirt to school. He was allegedly told it violated the school's dress code and was sent to the office before eventually being suspended.
The student said she had a right to wear the T-shirt and that she had worn it to school in the past.
Attorney Alan Ostergren is representing the student.
"There was nothing about the shirt that was threatening to anybody," he said. "And really this teacher overreacted."
Ostergren said Griffin, who was active with the Bill of Rights Institute and an adjunct instructor at William Penn University and Nebraska Methodist College, is not upholding the First Amendment.
"He violated it by punishing this student for wearing something that quoted the Constitution," he said. "It's not right, it's illegal and that's why we're in federal court."
Students said they understand pushing the boundaries and testing limits, adding the T-shirt does not come close to doing either.
The school district said it was not commenting on the lawsuit because a notice about the suit had not yet been served.
Copyright 2023 KCCI via CNN Newsource. All rights reserved.