WSAZ Investigates | Work Zone Woes
Published: Mar. 6, 2023 at 7:41 PM EST
BARBOURSVILLE, W.Va. (WSAZ) - Drivers sat for hours Monday in gridlock traffic on Interstate 64 and along U.S. 60 in Cabell County after a tractor-trailer rollover that resulted in a diesel spill.
Barboursville Volunteer Fire Chief Andrew Frazier tells WSAZ.com the accident report came in about 5:50 a.m. Monday. When crews arrived on the scene, diesel fuel was leaking from the 18-wheeler, the chief confirms.
About 75 gallons of diesel fuel spilled but has been contained, officials say.
The on-ramp and interstate within a 150-foot radius were blocked off after the crew became aware of a 55-gallon drum of methanol on the truck. However, crews say there are no signs it was compromised in the crash.
"The WVDEP has Environmental Enforcement staff on site. The truck was hauling mostly motor oil, which spilled, but a majority was contained to the truck," said West Virginia Department of Environmental Protection Chief Communications Officer Terry Fletcher. "No environmental impacts have been observed, and a contractor is on the scene to clean up the area."
This latest crash left drivers yet again with lengthy delays for hours on end.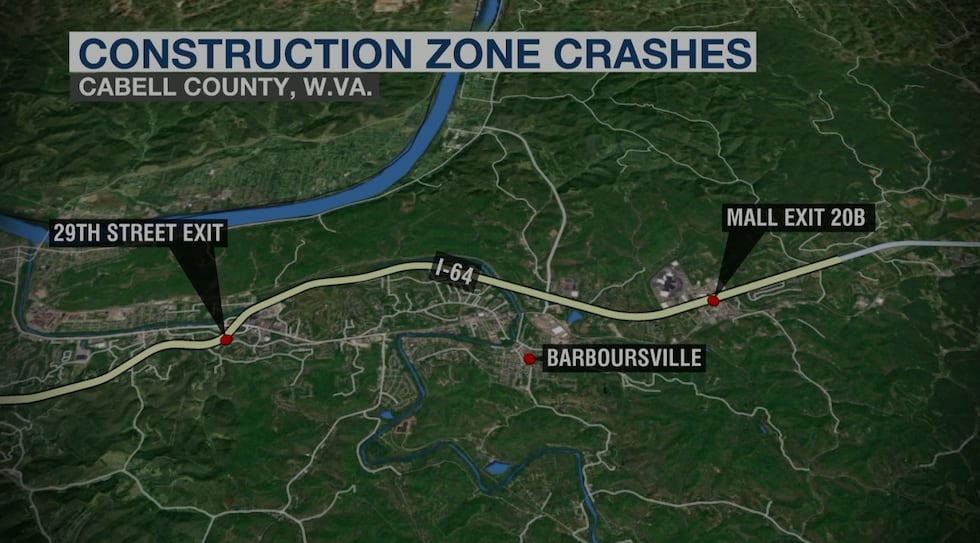 Cabell County 911 estimated since Jan. 1, a total of thirty-three (33) crashes in the construction area between the 15-mile marker and the 22-mile marker, nine (9) of those involved tractor-trailers.
WSAZ found that's 33 crashes reported in 65 days.
Cabell County 911 estimates each crash closes part of the interstate for hours stranding drivers and making it difficult for EMS to get to the scene quickly or respond to emergencies.
"When these things happen and the interstate gets impacted or even Route 60 ... the traffic congestion is unbelievable," Chief Frazier said. "We do our very best to speed up whatever we can to get traffic as fast as we can. In this case, it was a safety precaution. I'd rather things shut down and people be safe than something happen and somebody gets hurt."
WSAZ previously asked DOH about helping with directing traffic in these situations.
A spokesperson told us they were always looking at possibilities to use flaggers or traffic directors in highly-congested areas to move traffic along.
WSAZ reached out to the West Virginia Division of Highways for an interview regarding safety concerns, and we received a statement.
"The bottom line is drivers need to obey all posted signs, slow down and avoid distracted driving to keep West Virginians safe. People need to get behind the wheel and be responsible. You're literally taking people's lives in your hands."
Keep checking the WSAZ app for the latest.
Copyright 2023 WSAZ. All rights reserved.