US: War crimes on all sides in Ethiopia's Tigray conflict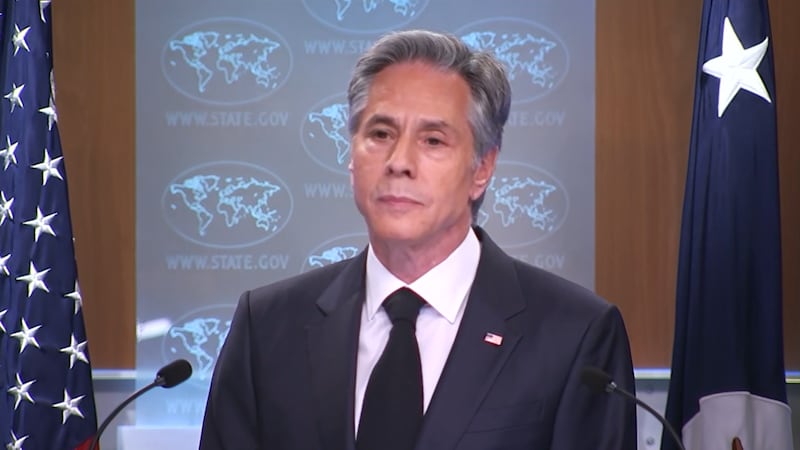 Published: Mar. 20, 2023 at 12:01 PM EDT
|
Updated: Mar. 20, 2023 at 1:27 PM EDT
WASHINGTON (AP) — The Biden administration announced Monday that it has determined all sides in the brutal conflict in Ethiopia's northern Tigray region committed war crimes and crimes against humanity.
The move carries no immediate U.S. policy implications but lends weight to calls for such allegations to be prosecuted.
Secretary of State Antony Blinken announced the determination less than a week after he returned from a visit to Ethiopia during which he met with Ethiopian government and Tigrayan officials as well as victims of the conflict, but said little about the U.S. view of prospects for accountability.
His determination covers members of the Ethiopian and Eritrean national armies as well as the Tigray People's Liberation Front and forces aligned with the Amhara region. Blinken said those responsible for atrocities must be held accountable.
He said after "careful review of the law and facts" he had determined that members of the Ethiopian National Defense Forces, Eritrean Defense Forces, Tigray People's Liberation Front forces and Amhara forces committed war crimes during the conflict in northern Ethiopia.
Members of the Ethiopian, Eritrean and Amhara forces also committed crimes against humanity, "including murder, rape and other forms of sexual violence, and persecution," Blinken said. "Members of the Amhara forces also committed the crime against humanity of deportation or forcible transfer and committed ethnic cleansing in western Tigray."
Blinken announced the determination as he rolled out the State Department's annual global human rights reports, which cover 2022 and also called out Afghanistan, China, Cuba, Iran, Myanmar and Nicaragua for abuses.
"I condemn the unspeakable violence against civilians and destruction that occurred in northern Ethiopia," he said. "Recognizing the atrocities committed by all parties is an essential step to achieving a sustainable peace. Those most responsible for atrocities, including those in positions of command, must be held accountable."
The formal determination is more measured than his assertion early in the two-year conflict that "ethnic cleansing" was taking place in parts of Tigray.
Last year, a United Nations commission of inquiry said it had turned up evidence of war crimes and crimes against humanity by Ethiopian government forces, Tigray forces and Eritrea's military. But the commission also said Ethiopian forces had resorted to "starvation of civilians" as a tool of war and that Ethiopian and Eritrean forces were found to be responsible for "sexual slavery" — while Tigray forces were not.
The conflict, which ended with a peace deal in November, killed an estimated half-million civilians in Tigray alone, according to Ghent University researchers, a death toll echoed by U.S. officials.
Blinken called on all sides to respect the agreement and follow through on pledges "to implement an inclusive and comprehensive transitional justice process."
He said Afghanistan's ruling Taliban, which took power after the U.S. withdrawal from the country two years ago, "relentlessly discriminates against and represses women and girls" and has taken action that threatens humanitarian assistance to all Afghans.
On China, Blinken said Beijing continues abuses, including genocide and crimes against humanity, against Uyghur Muslims in it western Xinjiang area. It also continues the repression of Tibetans and pro-democracy activists in Hong Kong, along with mainland Chinese citizens who have tried to exercise basic freedoms.
In Myanmar, also known as Burma, Blinken said human rights "have further eroded," and in Nicaragua, he said "the authoritarian government continues to detain political prisoners and hold them in appalling prison conditions."
___
Cara Anna contributed from Nairobi. Kenya
Copyright 2023 The Associated Press. All rights reserved.