WV Class AAAA boys All-State team is released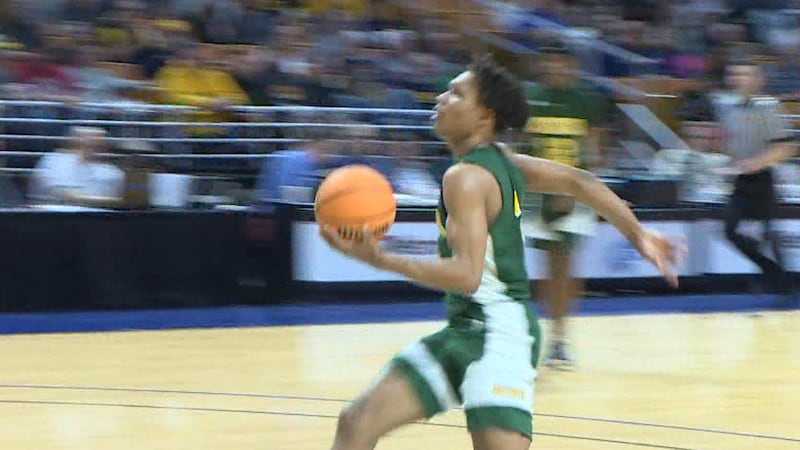 Published: Mar. 24, 2023 at 4:49 PM EDT
HUNTINGTON, W.Va. (WSAZ) - The West Virginia Sports Writers Association named the top players in Class AAAA boys high school basketball on Friday. George Washington's Ben Nicol and Huntington High's Mikey Johnson made the first team from our immediate area. Here's the full list of players.
First Team
Sharron Young, Morgantown, Jr. (Captain), 6-0, 19.4
Ben Nicol, GW, Sr. 6-6, 16.3
Nate Plotner, Parkersburg South, Sr. 6-8 14.0
Anthony Spatafore, Bridgeport, Sr. 6-3 17.1
Mikey Johnson, Huntington, Jr. 6-3, 17.3
Brody Davis, Morgantown, Sr. 6-5. 14.6
Cyrus Traugh, Parkersburg South, Sr. 6-2 15.5
Jamari Jenkins, Jefferson, Soph. 5-8, 15.7
Second Team
Elijah Redfern, Beckley, Jr. 6-2, 18.1
Brendan Hoffman, GW, Sr. (Captain) 6-2, 18.2
Duane Harris, Huntington, Jr. 17.5
Goose Gabbert, Greenbrier East, Sr. 17.4
Dominic Schmidt, Cabell Midland, Sr. 22.2
Aiden Davis, Wheeling Park, Soph. 20.3
Caleb Thomas, Spring Mills, Soph.
Cam Danser, Morgantown, Sr. 6-6. 10.5
Honorable mention
Zach Ayoob, Bridgeport; Rafael Barcinas, University; Avion Blackwood, Martinsburg; Aiden Blake, Parkersburg South; Markel Booker, Capital; Jackson Clark, Hurricane; Ashton Curry, Bridgeport; Coby Dillon, Woodrow Wilson; Izzy Everett, Morgantown; Austin Fleming, Parkersburg; James Fortney-Garbart, University; Jaiden Gladney, Jefferson; Christian Goebel, South Charleston; Roman Gray, John Marshall; Chase Hancock, Princeton; Kris Joyce, Princeton; Trevor Kelley, Oak Hill; Malachi Lewis, Oak Hill; Matt Mahood, Musselman; Brett Phillips, Wheeling Park; Austin Reeves, Parkersburg South; Clay Robertson, Spring Valley; Khayleb Robinson, Spring Mills; Nate Rodriguez, Parkersburg; Adam Seams, Greenbrier East; Will Shively, Jefferson; Bryson Smith, South Charleston; Jackson Smith, Parkersburg South; Brennan Sobutka, John Marshall Leyton Toepfer, Brooke; Cam Wilkes, Hedgesville.
Copyright 2023 WSAZ. All rights reserved.