WVU baseball racks up Big 12 honors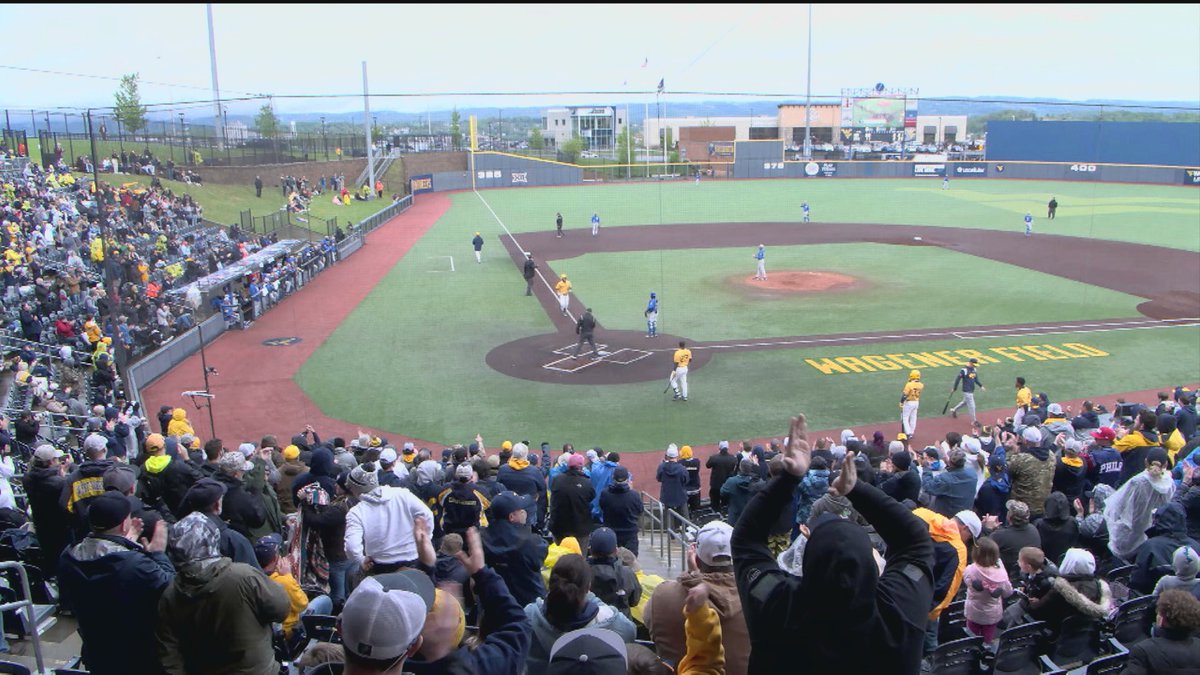 Published: May. 23, 2023 at 5:31 PM EDT
MORGANTOWN, W.Va. (May 23, 2023) – Sophomore second baseman JJ Wetherholt became the first Mountaineer in program history on Tuesday to be named Big 12 Player of the Year while head coach Randy Mazey also earned Big 12 Coach of the Year for the second time in his career.
Wetherholt led a trio of Mountaineers on the All-Big 12 First Team as he was joined by junior starting pitcher Ben Hampton and junior relief pitcher Carlson Reed. WVU also had three players on the second team – junior outfielders Landon Wallace and Braden Barry as well as graduate pitcher Blaine Traxel.
Redshirt-freshman David Hagaman, sophomore Grant Hussey, graduate Dayne Leonard, sophomore Aidan Major, redshirt-senior Caleb McNeely, freshman Logan Sauve, and graduate Tevin Tucker also received All-Big 12 Honorable Mention status, meaning they received at least one vote from the coaches.
It is the first time the Mountaineers have had three players on the All-Conference First Team since having four on the All-Big East team in 2009. Wetherholt is just the third conference player of the year in program history, joining Jarod Rine (2003, Big East) and Mark Landers (1994, Atlantic 10).
Wetherholt is the third player in WVU history to earn a major postseason Big 12 award as Harrison Musgrave and Alek Manoah earned Pitcher of the Year in 2013 and 2019, respectively.
Wetherholt is currently amid the greatest offensive season in WVU history. He leads all Power Five players and is second in the nation with a .447 batting average while also leading the Big 12 with 92 hits, 35 stolen bases, 65 runs, a .786 slugging percentage, and 10.3 at-bats per strikeouts. The Mars, Pennsylvania native also leads the Mountaineers with 15 home runs, 21 doubles, 56 RBI, .510 OBP, and 162 total bases.
The sophomore was also recently the only Big 12 player to be named a semifinalist for both the Golden Spikes Award and Dick Howser Trophy.
Mazey picks up Big 12 Coach of the Year honors for the second time, the first coming in 2019. After being picked sixth in the preseason poll, he led the Mountaineers to a 39-16 overall record, including a 15-9 mark in conference play as the Mountaineers claimed a share of their first Big 12 title in program history and first conference championship since 1996 when in the Big East. With his second Coach of the Year award, Mazey becomes the third coach in WVU history with two as Greg Van Zant earned Big East Coach of the Year in 1997 and 2003 while Dale Ramsburg was named Atlantic 10 Coach of the Year in 1988 and 1990. They are the only three to earn coach of the year status.
Reed became one of the Big 12′s most dominant relievers as he went 2-0 with a 1.32 ERA and seven saves. In 34.0 innings, the Marietta, Georgia native had 53 strikeouts while holding opponents to a .203 batting average.
Hampton made 14 starts this season and went 5-3 with a 4.50 ERA and 62 strikeouts in 76.0 innings. In games in which Hampton got the start, the Mountaineers went 10-4, which included five wins in conference games.
Traxel also made 14 starts this season in his first and only season with WVU after transferring in from Cal State Northridge. His seven wins are the second-most in the Big 12 while leading the nation with 99.2 innings pitched and five complete games. He is also sixth in the Big 12 with a 3.79 ERA, fourth with a 1.13 WHIP, and second in walks per nine innings at 1.81 as he walked just 20 batters while striking out a team-high 71.
Barry has enjoyed his best season as a Mountaineer this year as he is hitting .302 with eight home runs, 19 doubles, 43 RBI, and 55 runs scored. The Louisville native has also used his speed to steal 21 bases and patrol centerfield to the tune of a .991 fielding percentage while making some spectacular plays.
Wallace, a Roseville, California native, has burst onto the scene in his first year with the Mountaineers, hitting .322 with 10 home runs, 10 doubles, 47 RBI, 44 runs scored, and 18 stolen bases. He saved his best play for conference season as he hit .333 with eight of his home runs coming against Big 12 foes.
Tucker had a breakout season in his fifth year with the Mountaineers as he hit .326 with a home run, eight doubles, three triples, 20 RBI, and 55 runs scored. His .476 on-base percentage is second highest on the team while his 37 walks is tied for the most on the Mountaineers. He has also started every game at shortstop with a .967 fielding percentage, the best mark he has had in his four seasons with WVU.
Hagaman has played a crucial role in the Mountaineer bullpen as he went 1-1 with a 2.30 ERA and 31 strikeouts in 31.1 innings across 20 appearances. The Egg Harbor City, New Jersey native has been the most difficult Mountaineer pitcher to get a hit against as opponents are batting just .152 against him while having a WHIP of 0.93 which goes even lower to 0.82 against Big 12 competition.
After a standout freshman campaign, Hussey made a jump his sophomore year, hitting .271 with 13 home runs and 45 RBI. The Parkersburg, West Virginia native has also played solid defense at first base with a .982 fielding percentage while handling a team-high 393 chances.
Leonard, a native of Spring Valley, Wisconsin, has started all 55 games this season with 43 starts behind the plate. He hit .263 with three home runs, 12 doubles, and 45 runs scored while also throwing out 45% of base-stealers (10-for-22).
Major elevated his game in Big 12 play as he went 2-0 with a 3.86 ERA and 30 strikeouts in 23.1 innings against conference opponents. Overall, he went 3-2 with a pair of saves and 49 strikeouts.
McNeely hit .299 in his first season with the Mountaineers while tallying 12 home runs, 47 RBI, and 45 runs scored. He also made history earlier this season as he hit for the cycle against Kansas State, just the fourth in program history.
Sauve was the only true freshman to earn All-Big 12 honors for the Mountaineers after hitting .260 with three home runs, 19 RBI, and 29 runs scored, the most among the WVU freshmen. He also led the freshmen with a .403 on-base percentage and threw out four base-stealers from behind the dish.
Third-seeded West Virginia opens play at the 2023 Phillips 66 Big 12 Baseball Championship on Wednesday, May 24, against No. 6-seed Texas Tech. First pitch at Globe Life Field in Arlington, Texas, is set for 8:30 p.m. ET.
Copyright 2023 WSAZ. All rights reserved.