Ellis Park opens its doors for live racing for first time in place of Churchill Downs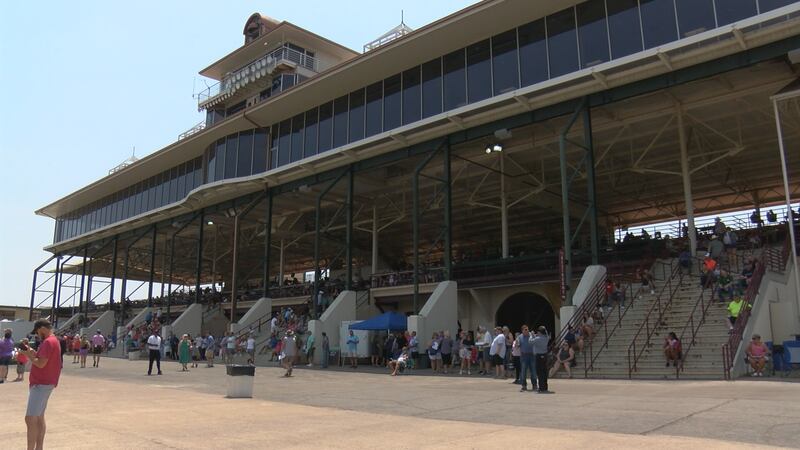 Published: Jun. 10, 2023 at 11:16 PM EDT
LOUISVILLE, Ky. (WAVE) - The famous site of the Run for the Roses was empty on Saturday as Churchill Downs decided to move races after a string of horse deaths.
12 horses lost their lives since stables opened there in March, and now the racing has picked back up at Ellis Park in Henderson, Kentucky.
Churchill Downs first introduced a number of regulations that would disqualify certain horses from racing, then decided to move the races altogether, and fans seemed to have followed.
All eyes were on Henderson Saturday as day one of the spring meet at Ellis Park is in the books. It brought in fans that say they are just excited they can still see live racing.
On the track, it was business as usual for the horses, jockeys and trainers, but just a different venue.
Thousands ventured into Ellis Park Saturday to see the continuation of the spring meet slate, including David Curry from Memphis.
Curry said he was born and raised in Henderson, and feels it could be good for the area.
"I think it's a great opportunity for Ellis Park," Curry said. "It's a great opportunity for Henderson to kind of showcase Ellis Park, and what Henderson has to offer as well with the horse racing industry."
Curry said he wouldn't have been able to see these races if they were at Churchill, but for Macyn Hansen and her bachelorette party, Churchill was the original plan.
Instead, they took a party bus to Henderson to experience live racing for the very first time.
"I've been right up on the track, which has been awesome, and it's very exciting because the horses are beautiful and I love to watch them run and race," Hansen said. "So my heart has been happy and the whole experience has been made, so it's nice."
The Missouri native even won her first race. However, after still never experiencing Churchill Downs, she couldn't help but be disappointed the venue changed.
"I'm sad that it moved here but I'm happy that I get to see it," Hansen said. "I'm happy that I get to be a part of it and happy that my group has been able to make the occasion."
Susie and West Martin tend to agree with Hansen.
The Martins are one of the owners of Kentucky Derby Winner Mage and made their way to Ellis Park to support another one of their horses, Tshiebwe (Yes, Tshiebwe as in Oscar Tshiebwe from the University of Kentucky basketball team).
While they're used to traveling, Churchill was like a second home for them.
"It's kind of sad that you know, because we are from Louisville, so," the Martins said. "But we are used to traveling with the horses, so you know we go to New York, we go to the Gulf Stream, we go wherever. Saratoga. Yeah, wherever the horses are, we show up."
The Martins said they are concerned about the horse deaths but felt the tracks at Churchill were in good condition and feel it could be multiple reasons why these horses are getting injured.
"I don't know. I think the track has never looked better at Churchill," Susie Martin said. "So I know they want to get to the bottom of it, but I think the track is probably good. I don't know, though. But you know, we start racing these horses when they're so young, and they are two years old, and they could just have a hairline fracture and maybe not even know until they really get to competing and put some stress on it."
Some fans said they feel racing at Ellis Park could be a huge data point moving forward. They said if no horses are injured or die here, then maybe it's time to take a closer look at Churchill's track. However, if the deaths continue, the answer may still be something else completely.
Ellis Park will continue to take over live racing for Churchill Downs throughout the Spring Meet season.
Copyright 2023 WAVE. All rights reserved.