Inmate accused of assaulting two deputies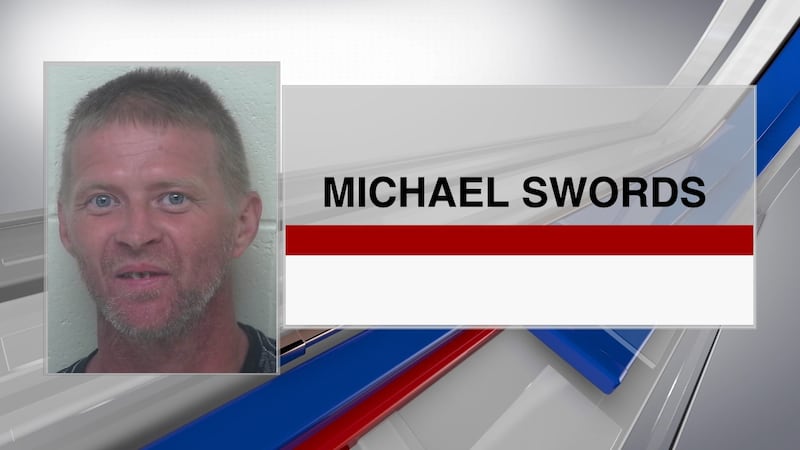 Published: Aug. 28, 2023 at 11:52 PM EDT
UPDATE 8/31/23 @ 4:50 p.m.
SCIOTO COUNTY, Ohio (WSAZ) - A man from eastern Kentucky who was arrested earlier this week on break-in and theft charges in Scioto County faces additional charges after two deputies were assaulted Thursday during the suspect's video arraignment, Scioto County Sheriff David Thoroughman said.
The sheriff said deputies gave Michael A. Swords, 42, of Greenup, Kentucky, several verbal commands to leave the video arraignment room, but he refused, punching them both in the face.
Both deputies were taken to Southern Ohio Medical Center for treatment of injuries, including a broken nose, lip lacerations, a hand injury, and possible concussions. Both were treated for their injuries and released.
In addition to the original charges he faces, Swords has been charged with two counts of felonious assault on a police officer.
See below to read more about the incident that led up to Swords' original charges.
ORIGINAL STORY 8/28/23
SCIOTO COUNTY, Ohio (WSAZ) - A man from eastern Kentucky faces several charges in connection with a business break-in and theft, which included a stolen pickup truck.
According to the Scioto County Sheriff's Office, the incident happened Saturday at an auto sales business located in the 8000 block of Ohio River Road in Wheelersburg.
In addition to a 2011 Chevrolet Silverado pickup truck, the stolen items included cash, vehicle titles, and keys.
Scioto County Sheriff David Thoroughman said the following day, on Sunday, the alleged suspect contacted Scioto County 911, reporting his truck had been stolen from a job site in the 1000 block of Coriell Road in Portsmouth.
Deputies say the suspect later admitted that his truck had not been stolen and that he had broken into the business and taken it.
Michael A. Swords, 42, of Greenup, Kentucky, faces several charges including burglary, tampering with evidence, theft of firearms, having weapons under disability, breaking and entering, grand theft auto, and making a false report.
"During the investigation, deputies and detectives were able to recover over 300 stolen titles and an assortment of vehicle keys. One of the keys belonged to the truck which was reported stolen from Mike's Auto Sales. The truck was located hidden in a wooded area at the suspects house," the news release states.
Deputies say Swords was also linked to another burglary along state Route 125 in Otway, Ohio, which involved the theft of firearms. Those firearms were recovered buried in an area along Pond Lick Road off state Route 125.
Swords was taken to the Scioto County Jail and is scheduled to appear Tuesday in Portsmouth Municipal Court. His bond is $120,000.
Copyright 2023 WSAZ. All rights reserved.