WVSP whistleblower surrenders on bond revocation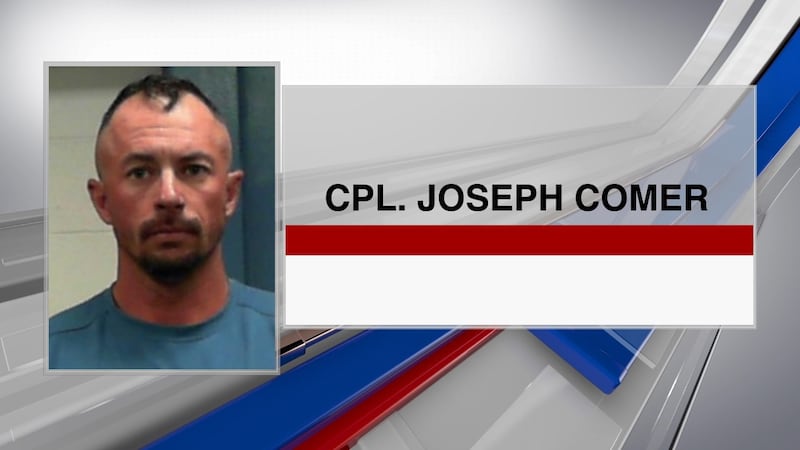 Published: Sep. 8, 2023 at 4:21 PM EDT
CHARLESTON, W.Va. (WSAZ) - A self-professed whistleblower, whose anonymous letters revealed serious allegations of wrongdoing within West Virginia State Police, landed behind bars Friday, according to a news release and jail records.
Cpl. Joseph Michael Comer, 40, was incarcerated Friday in relation to an alleged bond revocation. State Police say he turned himself in to the Parkersburg Police Department upon learning of the arrest warrant.
The bond revocation -- related to phone records -- stems from underlying charges of felony strangulation and misdemeanor domestic battery, according to court records.
Comer and his attorney have maintained his innocence and claimed the underlying charges are retaliatory for his criticism of State Police.
The whistleblower's anonymous letter triggered a broad investigation into wrongdoing at State Police.
A State Police press release, issued Friday, says the Ritchie County Prosecutor's Office notified State Police of the bond revocation and arrest warrant. However, the release makes no mention of State Police being involved in executing that warrant.
Court records show Comer's defense asked for the revocation to be put on hold -- a request opposed by the prosecution and denied by the court Friday.
Comer's attorney, David Moye, tells WSAZ he is filing motions to reinstate bond and dismiss all charges.
State Police say Comer has been and remains on administrative leave.
The Ritchie County Prosecutor's Office has not returned calls seeking comment.
For previous coverage >>>
Arrested WVSP trooper's attorney speaks out
Copyright 2023 WSAZ. All rights reserved.