Steep Valley fire burning in New River Gorge National Park and Preserve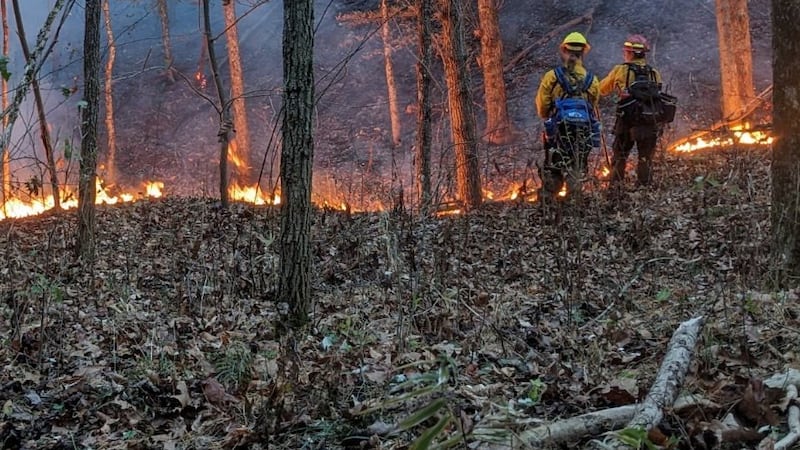 Published: Nov. 10, 2023 at 2:34 PM EST
GLEN JEAN, W.Va. (WSAZ) - The Steep Valley Fire in New River Gorge National Park and Preserve was discovered on Monday, November 6th, 2023, at around 2:00 PM. The cause of the fire is under investigation. It continues to burn in the War Ridge and Backus Mountain areas.
The fire has consumed 1550 acres and has been actively burning in extremely steep, rugged terrain. Containment is estimated to be 11% as of Thursday evening.
The fire is burning in a emote area of the park and remains within the park boundaries. Smoke may be visible when the fire is actively burning, and it may linger in the gorge for several days as it moves, officials say.
The War Ridge Campground is currently closed as well as the access road beyond the campground. As of Thursday, 37 firefighters are actively engaged on the fire. Crews built fire line from War Ridge Campground South to towards the New River.
Friday, crews will focus on maintaining and improving fire lines, according to officials.
"We appreciate the response from so many cooperating agencies," said New River Gorge National Park and Preserve Superintendent Charles Sellars. "We will continue to work together to contain the fire safely and efficiently." To date, there has been one minor injury to a firefighter.
Resources from multiple agencies from across the country have arrived to assist park personnel. Firefighters and personnel from Indiana Dunes National Park, Wayne National Forest, The State of Pennsylvania Department of Conservation and Natural Resources, White Mountain National Forest, Cuyahoga Valley National Park, Great Swamp National Wildlife Refuge, Arizona Department of Forestry and Fire Management, and Michigan Department of Natural Resources are currently assigned to the fire.
Keep checking the WSAZ app for the latest information.
Copyright 2023 WSAZ. All rights reserved.