Amid death threats, school bus driver protects Huntington woman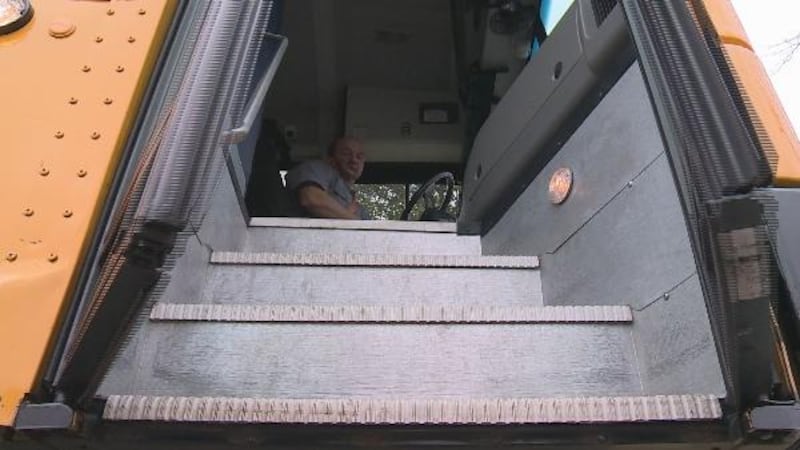 Published: Dec. 22, 2016 at 4:30 PM EST
HUNTINGTON, W.Va. (WSAZ) – About 30 elementary-aged kids on a school bus got a front seat to death threats Thursday.
The Cabell County school bus became a safe haven for a woman apparently in a domestic violence situation.
If not for the actions of the driver, Shane Evans, "Mr. Shane" to the kids, it could have ended very differently.
"I knew something was wrong because I could see it in her eyes," Evans said.
A mother, carrying a child, boarded Evans' bus #777 among the kids at Ninth Avenue and 23rd Street, heading to Spring Hill Elementary.
She refused his requests to leave and was quickly followed by someone police are calling her boyfriend.
Evans said the unusual turned ugly quickly, the man threatening her, then him, saying he had a gun, even pointing to something under his shirt.
Though nothing could quite prepare him, Evans said his training kicked in. He remained standing in the aisle, blocking the kids behind him.
"He got up in my face a few times. I just watched his hands," he said. "Your hands and your eyes tell the story of what's going to happen."
He later grabbed the radio, hollering for help from the transportation and fellow drivers who called 911. He left the button down so they could hear what was going on.
Meanwhile, he was telling the man anything he could to get him off the bus.
"I gave him an out," Evans said. "I said, 'You need to get off the bus, y'all are on camera. I'll make sure she's right behind you.' But I wasn't going to let her go right behind him."
He shut the door, with mother still in the front seat. He sped off, pausing only at his last three stops to tell kids and parents like Rhonda Felder to go back home, it was an emergency. At the time, he was unsure if he was being followed.
"No, I'm not upset. If that was me, I would want them to do the same thing," Felder said.
Felder was running late for a doctor's appointment and was a little miffed, not knowing what was going on. But she drove her son and the rest of the kids the few blocks to Spring Hill.
Meanwhile, Evans walked his kids into school. Both he and the mother spoke with police.
He's thankful that he, she and the kids are all safe.
"When the kids are on my bus, they're my responsibility," Evans said. "There's no other parent out there to stop it. It's my job. That's what I felt like I needed to do."
"He's a cool guy, he really is," Felder added.
Evans defers from the label of hero.
"Not a hero, just did what I was supposed to," he said.
The entire incident was caught on the bus's surveillance system. But for privacy reasons, the school system cannot release it.
Huntington police are investigating, but they tell WSAZ the woman didn't even know her boyfriend's last name, so it's been slow going so far.