Beloved dog hit and killed by car believed to be lured into the road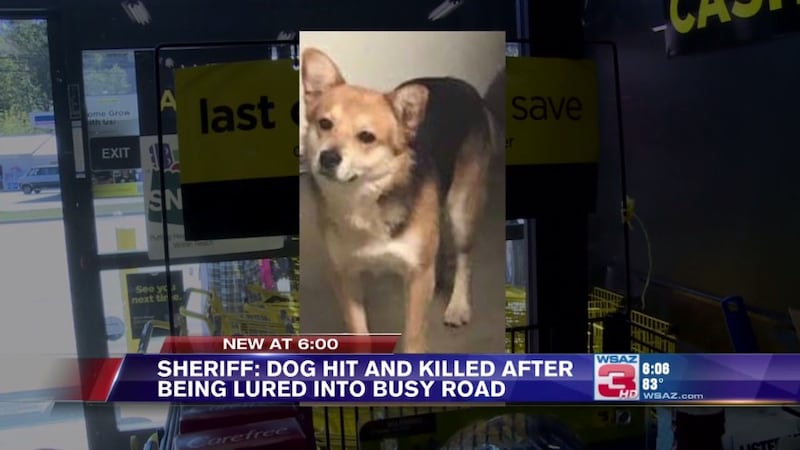 Published: Oct. 4, 2017 at 6:05 PM EDT
A community is outraged over the alleged killing of a beloved dog.
Known affectionately as "Dollar Dog," the stray has wandered around Staffordsville for several months. He has become a staple of the community and a familiar face.
The nickname comes from his frequent trips to the Dollar General store on state Route 40.
"He was part of the whole family around here really," said Adam Carr, an employee at the store. "He's gonna be missed, that's for sure."
Carr says he saw the pup nearly every morning outside of work, either across the street or in the parking lot.
Customers stopped by every day and bought food for Dollar Dog. While the mutt never let anyone catch or pet him, Carr says he was friendly and lovable.
"Oh yeah, people come all the time," said Carr. "They'd come in and said they had to get something for the dog outside."
When he wasn't at the store, neighbors say he would wander around town.
"He's been to my house," said Johnson County Sheriff Dwayne Price. "He's been to our neighbors' house and he just walked back and forth to the stock yard, to the dollar store, to the convenience store and back up to our neighborhood."
Wherever Dollar Dog strayed, he always managed to avoid traffic and other dangers.
However, Price says the dog was the target of a cruel crime Sunday.
Dollar Dog was found dead in the road after being hit by a car.
"What was disturbing about it is a couple people had actually seen where somebody had intentionally put a little pile of of dog food right at the intersection of 40 and 172," said Price. "It wasn't consistent with somebody hauling dog food and maybe some of it spilling out of the bed. This was intentional that somebody had set up a little pile of food just to lure it out there. Why somebody would do that is beyond me. I find that inhumane and cruel."
The dog was as regular at Dollar General as its customers. Neighbors came to love the furry friend. Many were sickened by the news of his death.
"Just unbelievable," said Cliff Pelfrey. "Somebody that has the heart to do something like that, being a dog lover myself or just being a human being, it's just a terrible thing."
Pelfrey is one of several people who have contributed to a reward for whoever helps catch the person or people responsible.
Right now, the reward is at $850.
"That dog deserves justice and somebody who would do that they need to be held accountable," Pelfrey said.
Price says he will look into pressing animal cruelty charges if a suspect is caught.