Frustrated Nicholas County community waiting for answers about their schools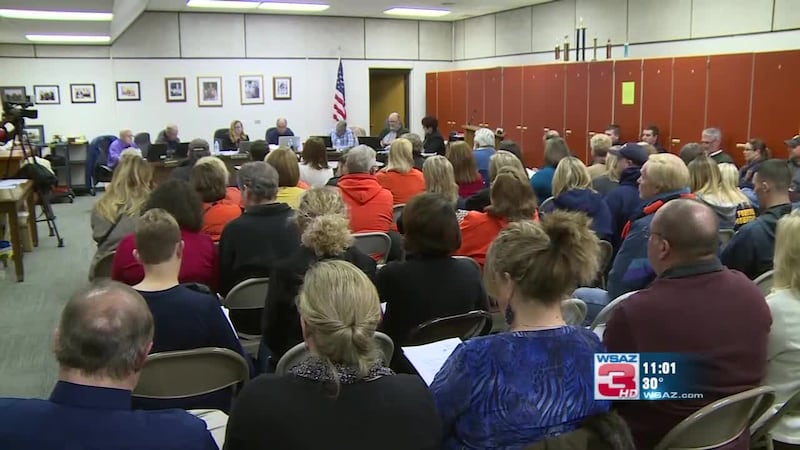 Published: Nov. 21, 2016 at 11:19 PM EST
NICHOLAS COUNTY, W.Va. (WSAZ) – Five months after June flooding destroyed three schools in Nicholas County, community members are still waiting on a final decision as to where permanent replacement schools will be built.
Folks from Richwood High School, Richwood Middle School and Summersville Middle School say a lack of detailed information has made many anxious county officials plan to move their schools far from home -- or there will be consolidation.
That's why dozens showed up for Monday night's board meeting. Many hoping for a detailed plan may have left disappointed, simply because the plan is still coming together.
School officials reminded the crowd that their focus is still on securing portable classrooms for students displaced by flooding. They say once they finish that process, they'll present a long-term plan for each facility, explaining they are close to that point.
Superintendent Dr. Donna Burge Tetrick said she is still gathering data and could make a presentation by the end of the month that will give folks an insight into a long-term location. But she says they have to determine the short-term location first and finalize their plan for the portables.
Still, speakers at Monday night's meeting have already jumped ahead to that next stage. Some said they'll agree with the district, no matter their decision. Others, though, especially those from Richwood, are already speaking out against consolidation.
"It's a big part of our community," retired Richwood teacher Mary Jane Williams said. "If you rip that school out of the community, then you're going to destroy the economy. You're going to destroy the heart of the people there and all the activity that goes on there."
David Irwin, a parent from Summersville, said, "We've bestowed our trust in them by electing them to make the right decision, and I know there's many people in the county that believe they're doing the right thing."
Richwood Mayor Dr. Bob Henry Baber said he's as concerned about the lack of details as anyone. He was at the state Capitol in Charleston Monday to officially rescind the letter the city sent to the school district, condemning Richwood schools and slating them for demolition.
Baber says several pieces inside Richwood's schools were actually not damaged by flooding and wants to see whether they can be salvaged for city use before approving any demolition.