UPDATE: Greenbrier resort reopening after floods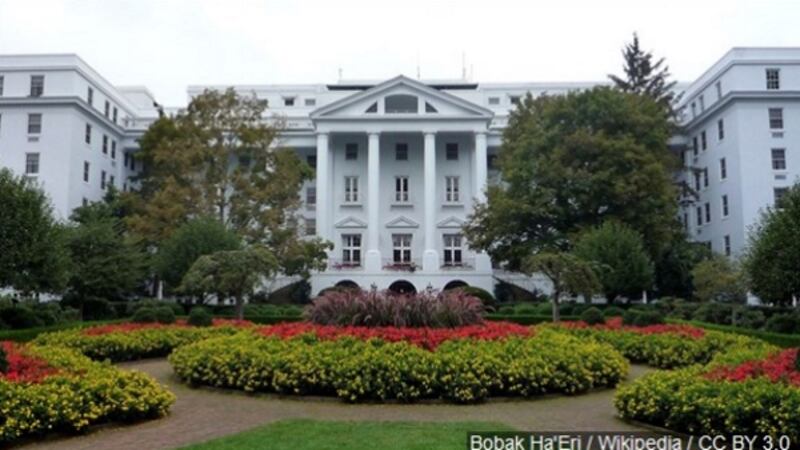 Published: Jul. 7, 2016 at 10:59 AM EDT
UPDATE 7/12/16 @ 9:30 a.m.
WHITE SULPHUR SPRINGS, W.Va. (AP) -- The Greenbrier's 710-room hotel is reopening to the public more than two weeks after the West Virginia resort's property was ravaged by floods.
Owner Jim Justice announced last week that the hotel in White Sulphur Springs will welcome back paying guests on Tuesday.
Justice had said he wanted to get hotel employees back to work. He says the resort is "scarred" and "repairing" but promised "we will be back."
The June 23 floods left 15 people dead in Greenbrier County and 23 statewide. The hotel closed to outside guests on June 24 but took in more than 700 flooded-out residents.
The flood damage to the Old White TPC golf course prompted the PGA Tour to cancel last week's Greenbrier Classic tournament at the resort.
WHITE SULPHUR SPRINGS, W.Va. (WSAZ) -- It was exactly two weeks ago that severe weather turned into devastating flooding across West Virginia. But an announcement Thursday at a state landmark and major employer could bring healing and hope.
The Greenbrier will be reopening Tuesday, July 12.
The video shot by pro golfer Bubba Watson of the flooded golf course is still almost beyond belief. What waters left behind are almost as unimaginable for the pristine Greenbrier resort.
"Seeing the damage to the town, seeing the damage to the resort itself, I just didn't really comprehend at the beginning how you bounce back from that," said employee Jacob Coleman.
But a bounce back is happening, which is good news for almost 2,000 people like Coleman who were planning to work at The Greenbrier this summer.
"Seeing the progress we've made and hearing Mr. Justice say that we're going to reopen on the 12th, such a relief, such a relief," said Coleman.
Only one of Greenbrier's five golf courses will reopen Tuesday. That's the Greenbrier Course, not the Old White, where Howard's Creek remains visibly flooded Thursday. Still, it looks a lot better than it did two weeks ago.
Owner and CEO Jim Justice pleaded for visitors to come, spend their green so that employees and the area can earn theirs in a paycheck.
"Come, you can help so many and touch so many lives, it's unbelievable. If you really want to help, come," said Justice. "We want you to come, but we want you to know that we are scarred. We are damaged. We are repairing. We will be back."
Justice's plea comes on the day that so many were supposed to come for the annual Greenbrier Classic PGA golf tournament, until Mother Nature had other plans.
Still, Coleman is overwhelmed by the far-flung support he's witnessed ever since, helping The Greenbrier bounce back faster than he thought possible.
"For such a small community and small town in south West Virginia to get this much attention, it's kind of humbling and gives you a little bit of faith in humanity," said Coleman.
More than 700 flood victims who lost their homes have been staying at The Greenbrier for the last couple weeks. Officials tell us they will all leave the resort by Tuesday, but the Red Cross and FEMA are working to find everyone who is still left a new place to stay.
There's no time table for when all the amenities at The Greenbrier will open, including the Old White course.
"We're not going to be able to storm to the forefront and be the great Greenbrier of old on day one," said Justice. "We do have damage. Our grounds are nowhere close to pristine. But I'll promise you this, you being here, you will still have a Greenbrier experience beyond belief."
ORIGINAL STORY 7/7/16 @ 10:12 a.m.
WHITE SULPHUR SPRINGS, W.Va. (WSAZ) -- Jim Justice says The Greenbrier will reopen next week, July 12.
The resort has been closed for more than two weeks following deadly flooding.
Greenbrier County was one of the hardest hit counties in the flooding.
The flooding significantly damaged parts of the resort.
"We had some major damage in different parts of the hotel, and it's taken a lot of work to get The Greenbrier back to the standard that our guests expect," said Jim Justice, Owner and CEO, The Greenbrier. "But my dad once told me that if you can't get it done in 24 hours a day, then you're gonna have to work nights. We've worked a lot of nights, because we know just how important it is to have The Greenbrier up and running and guests coming here to visit."
"For this region and this state to get back on its feet, the people need to be working," said Justice. "A number of Team Members at The Greenbrier lost everything, and they can't rebuild if they don't have a place to work. That's why we've worked so hard to get The Greenbrier's doors back open as quickly as possible."
More than 700 flood victims have been staying at The Greenbrier since the flooding.
According to a press release, The Greenbrier says it has been assured proper food and housing will be provided to these people.
The Greenbrier will continue to do all it can to help the community rebuild, and Justice is asking guests to do the same.
"The best way to help out is to come here, enjoy all the amazing people at America's Resort and help stimulate the economy here in Greenbrier County," said Justice. "Guests can enjoy a world class vacation and support the community and The Greenbrier's Team Members at the same time. It's a win-win for everybody."