Lawmakers see teacher strike and Capitol presence very differently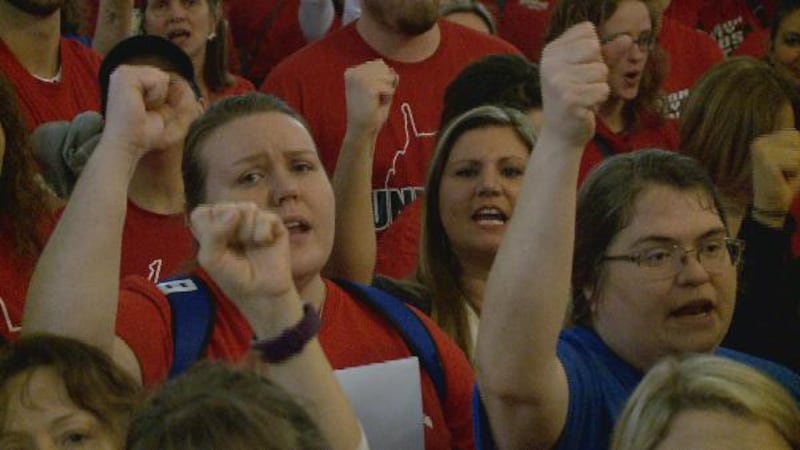 Published: Feb. 22, 2018 at 6:20 PM EST
The huge presence of teachers did not go without notice inside the Capitol. Chanting could once again be heard inside both the Senate and House chambers during the session Thursday.
But after the pay raise was signed into law by the governor Wednesday, lawmakers have very different interpretations of today's strike.
Perhaps the loudest boos of all were reserved for Senate President Mitch Carmichael (R) when he tried to address the teachers gathered outside the floor during a recess, but he wasn't able to say anything.
He tells WSAZ he's not happy the teachers were still there hours after Gov. Jim Justice signed the 4 percent pay raise over the next three years.
"I continue to express my disappointment about teachers walking out of the classroom."
Carmichael said a freeze in insurance premiums and an average of $1,300 pay increase on the salary scale is more than enough.
"Considering where we are as a state, we've cut our budget for the last four years and now union leaders are inciting these wonderful people to come to the Capitol to protest that it's not enough."
As for the strike and the teachers here, "it's clearly illegal. There's no question it's illegal."
Meanwhile, Senate Minority Leader Roman Prezioso (D) actually agreed.
"It probably is illegal. But what are you going to do?"
But on about everything else, Prezioso and Democratic leadership has a very different outlook, saying after years of not addressing the problem, "the chicken's come home to roost now."
Prezioso said recent measures aren't enough because without an insurance freeze, the pay raise wouldn't have covered the extra expense.
"We can find a way. You've got to have money to make money. You have to invest in the future."
The House unanimously voted Thursday afternoon to dedicate 20 percent of any budget surplus to PEIA, until the fund hits $75 million, about $15 million more than the annual expense of the program which is about $60 million. Earlier in the session, lawmakers transferred $29 million from the state's rainy day fund to PEIA to fund the freeze.
When we asked Carmichael about what would constitute a permanent fix for PEIA, he said "That's a great question that nobody really can answer."
Prezioso answered "a funding source that would address money on a yearly basis," even if it was a conglomeration of various funding sources.
Carmichael said escalating insurance costs are a nationwide problem, which is why more time is needed. But Prezioso said a special session may be needed to work on it and it's possible teachers may have rolling strikes in the future to continue to keep the pressure on.
Carmichael said he doesn't feel pressure when the Capitol and the gallery is full.
"That doesn't bother me a bit. That doesn't intimidate me. That does not in any way shape or form. We're not going to sacrifice the state of West Virginia fiscal condition."
But Prezioso disagrees.
"It definitely does. It's daunting to have all these folks down here. What is really daunting is the public support they're getting back home."
As for the future, even as far away as next week, when teachers are supposed to be back in the classroom, neither leader seemed to know.
"I don't have a crystal ball," Prezioso said.
"I'm confident cooler heads will prevail," Carmichael said.