Richwood residents start to cleanup after destructive flooding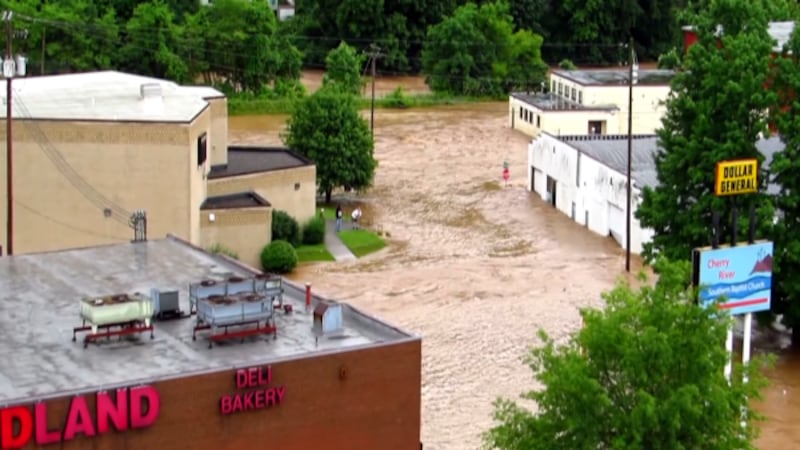 Published: Jun. 27, 2016 at 12:45 AM EDT
NICHOLAS COUNTY, W.Va (WSAZ) -- In one of the hardest hit counties in West Virginia, residents in Richwood have started to clean up after flood waters ripped through their small town.
Large piles of household items and furniture littered the streets Sunday as people tossed their belongings destroyed by flood water and mud.
Excavators had to be used at several homes that were total losses because there was so much to throw away.
"I have never seen a flood like this and we've lived here since I was 6-years-old," says Christina Frame who lost most of her belongings to the flood's destruction.
Frame says she will likely have to move from the town she grew up in and from the house she raised her five children in.
"It's hard to come in and see your home destroyed, especially since I've had them here since they were little."
Residents spent Sunday trying to continue cleaning efforts many started Saturday after the flood waters dropped, and people made it back to their homes. Many came from Summersville to help the Richwood community. Others came from other states.
For Frame, the emotional toll of the flood has left her questioning her next move. She says she may likely move from Richwood. She does not want to risk being in an area that could flood badly again.
Now, she is leaning on support from friends, family and her broader community to move forward. A close friend is letting her borrow a trailer to stay in temporarily and volunteers have given supplies.
"We'll just start over cause everything happens for a reason," says Frame. "I don't know why, but it does."
Several flood victims in Richwood asked that anyone looking to help donate their time and volunteer with the cleanup efforts. They say the devastation is so severe, manpower is one of the biggest challenges right now, and they need more hands.
Flood victims in Richwood looking for relief can contact the Richwood Baptist Church. The church is distributing supplies for flood victims, including but not limited to food, clothing and cleaning supplies. If you cannot get to the church, volunteers have offered to deliver supplies, as well.
Nicholas County is one of three in West Virginia immediately eligible to receive FEMA assistance.