UPDATE | Movement underway to bring Stewarts Original Hot Dogs back to Herd football games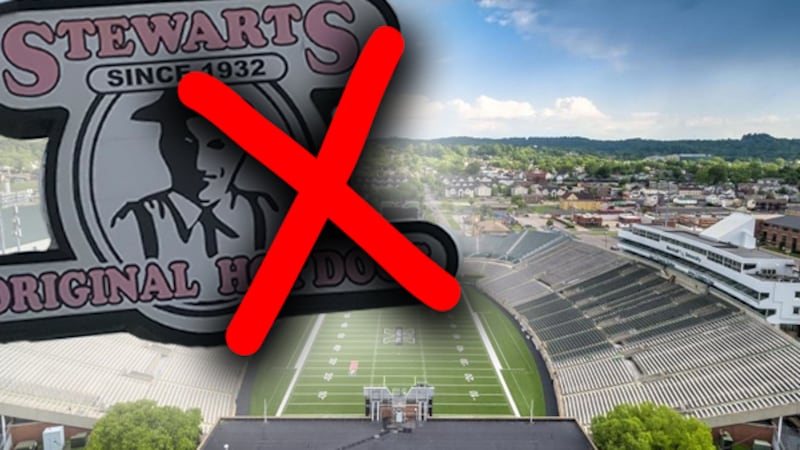 Published: Aug. 27, 2019 at 2:40 PM EDT
UPDATE 9/17/19 @ 9:55 p.m.
A movement is underway to bring Stewarts Original Hot Dogs back to Joan C. Edwards Stadium for the Herd's home games.
On Tuesday morning, Steven Davis, who's part of the community group Concerned Citizens of Huntington, took a petition to Marshall University President Jerome Gilbert's office to reinstate the "Thunder Dogs."
That petition has 4,500 signatures, according to Davis, who says they were gathered in only a week.
"I had some emails come in to me from outside the state, from other states saying 'what, what happened? What is this about,' and they were more than willing to sign that petition. They went, 'where can i sign that petition?' "
This football season is the first in more than 30 years that Stewarts Original Hot Dogs have not been available.
Sodexo, the company Marshall uses for managing food vendor contracts, cut ties right before the season opener.
"Thunder Dogs," that were originally only sold at Marshall sporting events, are now for sale at Stewarts on game days, as well as other tailgate deals.
Marshall football's season opener is just a few days away, and fans will notice a difference with the concessions.
For the first time in more than 30 years, Stewarts Original Hot Dogs will not be sold at Herd games.
"It caught me off guard," John Mandt Jr., the owner of Stewarts, said.
The West Virginia House of Delegates member says he was left with no choice but to part ways after a meeting Thursday with officials from Sodexo, the company Marshall uses for managing food vendor contracts.
Mandt says Sodexo was offering 46 cent less to Stewarts per hot dog. He says the previous years he'd gotten $1.20, and this year they were offering 74 cents.
"They made the terms so unreasonable, you had no other choice than to say no," Mandt said.
Mandt also says Sodexo was planning to move him from 11 concession areas in the football stadium to just one or two.
In February, a protest took place at the hot dog stand over a vote critics said would negatively affect the LGBTQ community. Mandt says he only voted against discharging a bill from the committee for an immediate vote on the floor.
In April, Marshall and Sodexo got a petition with more than 750 signatures asking the school to cut ties with Stewarts following comments Mandt made on social media that critics called anti-Muslim and bigoted.
Mandt says his comments were taken out of context and denies being bigoted toward anyone.
Mandt says during the meeting on Thursday, a Sodexo official said they had differences politically and contractually.
"When they're getting to a point where they don't want us involved, they're going to try and pressure you, strong arm you," Mandt said.
Dakota Nelson ran against Mandt in the 2018 election. Nelson says regardless of why it happened, this is the result he and others who signed the petition were fighting for.
"We got the outcome we worked for," Nelson said. "That's a community win. Who cares why they say it happened? We're just happy with the result."
Fan reaction on Stewarts' departure was mixed.
"It's kind of like a big part of childhood is being severed," Marshall student Rachel Lykins said.
"It's just not gonna be the same," Marshall fan Brian Anderson said.
"I feel like Marshall is trying to stand for something," Marshall student Mason Anderson said.
For the first time in the history of Joan C. Edwards Stadium, Sodexo says Saturday there will be other hot dogs sold.
Mandt says he has no ill feelings toward Marshall, and he's open to doing business with them again.
Mandt says Stewarts will be offering special deals on game days, and Thunder Dogs will be available at the hot dog stand.
He says the move may have a ripple effect and hurt the local companies that supply his hot dog business with buns and meat.
Sodexo's general manager at Marshall declined to do an interview.
Sodexo released a statement saying "Sodexo has a long-standing relationship with Mr. Mandt and Stewarts Original Hot Dogs. We are currently working through our contract and will continue to do so into the fall."
After more than three decades of doing business with Marshall University, Stewarts Original Hot Dogs will no longer sell food at the school.
Sodexo, the company Marshall uses for managing food vendor contracts, has cut ties with Stewarts.
Owner John Mandt Jr. tells WSAZ his business has sold food at the university for 32 years. He says the relationship goes back to football at Fairfield Stadium and that no other hot dog has ever been sold at Joan C. Edwards Stadium.
Mandt says the decision to end the contract came during a meeting on Thursday, Aug. 22. Sodexo officials told him they are "going in a different direction."
The owner estimates they have sold up to 9,000 hot dogs in one game. Mandt worries the end of this contract will not only hurt his business, but other companies like those that provide Stewarts with buns and meat.
The infamous "Thunder Dogs" were previously only sold at the games. Now, Mandt says they will be available, along with other tailgate deals, at Stewarts on home game days.
A spokesperson for Marshall University released the following statement Tuesday afternoon,
"Marshall University has no contractual agreement with Mr. Mandt. The contract is between Stewarts and Sodexo, a state-selected vendor for food service on our campus."