UPDATE: Brothers allegedly kill stray dog to stage crime scene after an assault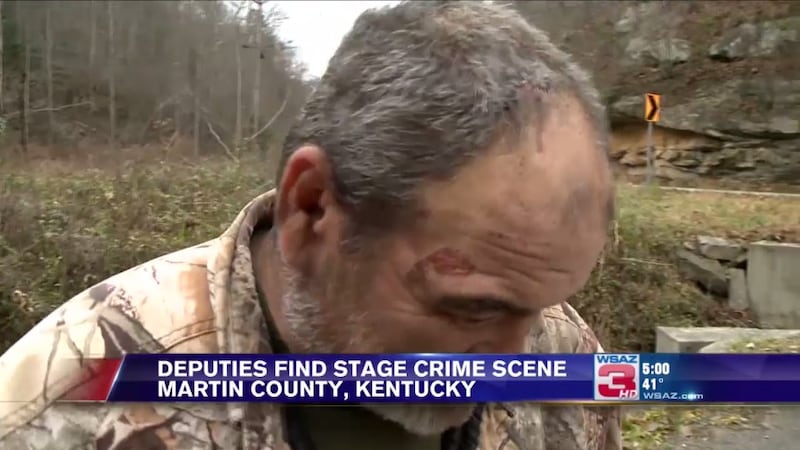 Published: Dec. 5, 2017 at 4:10 PM EST
UPDATE 12/6/17 @ 6:45 p.m.
Deputies in Martin County are investigating an incident that left one man with 56 staples in his head who was left for dead. Meanwhile, two brothers are accused of staging a crime scene to make it look like they were the victims.
Sheriff John Kirk believes they may have even killed an animal to get the blood to back up their story.
The victim, Fred Daniels, 47, told us the accused, Jeffery Spence, 26, and Casey Spence, 19, are neighbors and they used to be friends.
Just getting out of the vehicle was a painful ordeal for Daniels on Wednesday morning.
"Feels like I've been hit by a Mack truck."
It all started at his camper west of Tomahawk around 4 a.m. Saturday. He said both Jeffery and Casey Spence were pounding his door, screaming.
Daniels said he grabbed a shotgun, opened his door and demanded that they leave immediately. But he said they only moved back a little ways to the road, so he went outside, leaving the gun behind.
"I left it there," he said. "That was my mistake."
The next thing he knows, he's being hit in the head and back with his own crowbar, perhaps six to seven times.
"I just heard one say hit him again."
Daniels was knocked down into the brook. No one knows how he was able to crawl up the steep bank and make it back to the camper to call 911.
"The doctor says he don't see how I made it. The nurse says God was looking over me."
Daniels said the Spences drove off with his old pickup truck.
Now, 56 staples later, his bloody clothes are still in the camper.
This is where the story gets even more bizarre.
Deputies say the Spences showed later Saturday morning, claiming Daniels was the one who went to their house on Orville Road, threatening them with a shotgun. They said they were forced to defend themselves with the crowbar and they had the blood stains and buckshot in the wall to prove it.
But a search warrant showed the supposed buckshot was staged using a nail. Sheriff Kirk said they confessed they used blood from a dog. While they said the dog was already dead, because of the large amount, he believes they killed the animal.
"They left me for dead," Daniels said.
Daniels said he was friends with the mother of Jeffery and Casey several years ago, even feeding them and loaning them money. But he said they stole his weed trimmer about a year ago and pawned it. That's when they stopped talking. He also believes they burned his house down in March, forcing him into the camper. But no one has been able to prove that.
As for why, he said, with a laugh, the brothers are "dopeheads."
While he's in pain, even finding laughter a little painful, he's also upset that "those two little boys did me that way, ain't as big as your finger."
Kirk said the trailer that Jeffery Spence lives in on Orville Road, just a few doors down from Casey's burned Sunday morning. The cause has not been determined. Both men were in jail at the time on a charge of falsely reporting.
Daniels said he heard about the fire, but didn't know anything about it.
Daniels' pickup was been found on a rugged logging road nearby. The road is so rugged, deputies with four-wheel drive didn't want to keep going on it, believing the pickup's two-wheel drive wouldn't be able to make it.
Investigators believe they left it and walked to their home nearby. Daniels is not sure how he'll be able to get it back.
As of Wednesday, both Spences are in the Big Sandy Regional Detention Center.
Two men were arrested after allegedly killing a stray dog and using its blood to stage a crime scene, Martin County Sheriff's deputies say.
Jeffrey Spence, 26, and Casey Spence, 19, both of Tomahawk, Kentucky, are charged with first-degree assault, second-degree criminal trespassing, and theft by unlawful taking or disposition (a motor vehicle).
Deputies say both men were arrested Saturday night for falsely reporting an incident. They were arrested again Tuesday afternoon for the additional charges above.
Around 4 a.m. Saturday, a deputy responded to an assault. Investigators say a man, identified as Fred Daniels, was hit in the head with a crowbar four times in the road near his home in Tomahawk.
Daniels, who had to have around 50 staples in his head, said the suspects stole his truck after hitting him.
Later Saturday morning, the suspects said Daniels was at their home with a shotgun. They say he shot at a wall and assaulted them. Casey Spence said he had to hit Daniels with a crowbar in self-defense.
Investigators say there was blood all throughout the home, including on the front porch, staged to look like Daniels' blood. That home is in the 400 block of Orville Road in Tomahawk.
Deputies say both suspects have confessed that it was dog blood and that they staged a crime scene. Investigators also say there had been no shotgun blast into the wall, saying the suspects used a nail to damage it.
The truck was recovered several miles on an old rugged logging road near the suspects' home.
Deputies say the incident is part of a long-running feud between the suspects and Daniels.