Hospital acquisition deal finalized in Huntington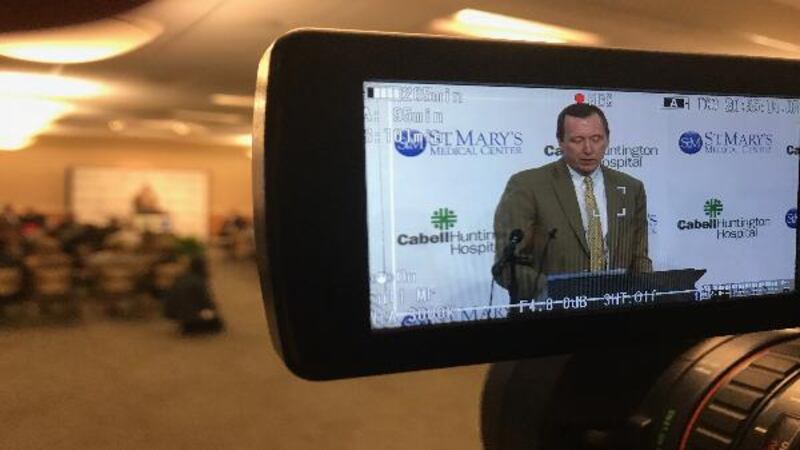 Published: Mar. 26, 2018 at 5:39 PM EDT
The acquisition of St. Mary's Medical Center by Cabell Huntington Hospital was made official Thursday during a news conference at St. Mary's Conference Center.
Dr. Kevin Yingling, chairman of the Cabell Huntington Hospital board of directors, said Cabell Huntington Hospital completed final steps of financing and paperwork to complete the acquisition of St. Mary's Medical Center. It marked the final step in a lengthy process that started in 2014.
"Today is a historic day that we will reflect on for decades," Yingling said in a news release. "Throughout the nearly four-year quest, members of the medical community, business community and community at-large have maintained the vision of creating a medical system that benefits the community by improving quality, access and affordability."
The first step was taken by naming Gary White to serve as interim CEO of the hospital system. He will be responsible for operational and strategic planning of both hospitals. Will also will lay the groundwork for the permanent system CEO.
Both hospitals will be carrying out plans outlined four years ago. Those include adopting uniform best practices and common protocols, integrating electronic medical records, recruiting qualified physician specialists and coordinating and implementing wellness and population health measures.
The move didn't happen without opposition. Since the first announcement of the acquisition, there's been litigation as critics voiced concern this could lead to increased healthcare costs.
Hospital officials maintain patients will only benefit.
"We're always challenged by the rising costs of healthcare," Kevin Fowler, president and CEO of CHH, said. "This whole transaction is about coming up with ways, innovative creative ways, to keep those costs contained."
The Vatican has approved the acquisition of St. Mary's Medical Center by Cabell Huntington Hospital, the Pallottine Missionary Sisters announced Monday in a joint statement from the healthcare facilities.
Cabell Huntington Hospital signed an agreement in 2014 with Pallottine Health Services to acquire St. Mary's. However, Vatican approval was required in order for the acquisition to move forward.
"The Vatican approved the transaction with the understanding that the values and mission established by the Pallottine Sisters will continue at St. Mary's Medical Center after the transaction is complete," said Sister Mary Grace Barile, the provincial of the Pallottine Missionary Sisters, in a news release.
She said the agreement will allow St. Mary's to remain a Catholic-affiliated hospital. It will also keep its name.
"The approval from Rome confirms our belief that the combined CHH and SMMC will create an excellent hospital system that moves healthcare in our region to a new level," said Kevin Fowler, Cabell Huntington Hospital's president and chief executive officer.
Earlier this year, Cabell Huntington Hospital and Steel of West Virginia reached an agreement regarding a legal challenge by Steel of West Virginia against the proposed merger. The company alleged that the merger would be detrimental for consumers' choices and would drive up costs.