UPDATE: W.Va. Attorney General 'prepared to act' in teacher strike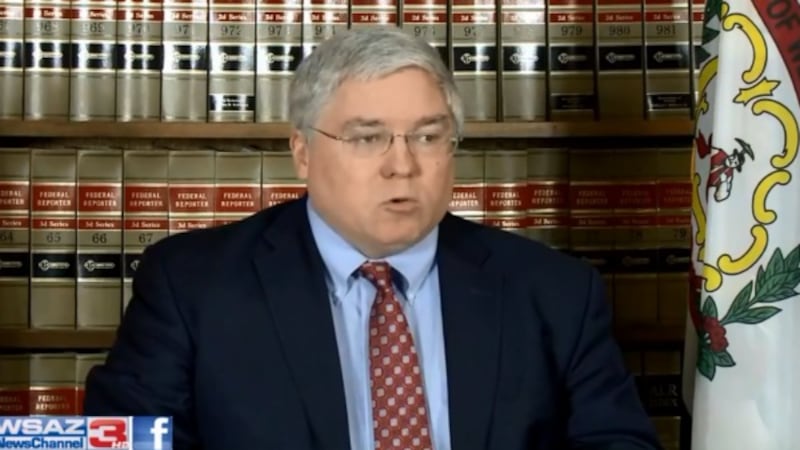 Published: Feb. 21, 2018 at 5:14 PM EST
UPDATE 3/1/18 @ 2:45 p.m.
West Virginia Attorney General Patrick Morrisey said Thursday his office is ready to act if the statewide teacher strike isn't over soon.
During a news conference about federal efforts to help state government fight the opioid epidemic, Morrisey echoed what he has said earlier about the ongoing strike.
"I believe the work stoppage is unlawful ... it is my agreement the Court would agree with us," he said. "We're ready; we're prepared ... Once this office receives authorization, we're prepared to act."
Morrisey said there are different legal options -- at both the state and the county level.
"We could become engaged on a county level," he said, saying it's "premature to speculate" the exact legal course.
While Morrisey said he believes salaries of state teachers need to be more competitive with other states, he said his job is to enforce the law.
He said the basis for legal action is laid out in a 1990s legal opinion from a prior teacher strike in West Virginia.
UPDATE 2/27/18 @ 3:50 p.m.
West Virginia Attorney General Patrick Morrisey reiterated Tuesday that the statewide teacher and work personnel strike is unlawful.
He made the comments during a meeting at the U.S. Department of Justice in Washington.
"I think we've talked about this back in West Virginia, and it is unlawful to have a work stoppage," Morrisey said. "I know that the governor and the Legislature are trying to work through a number of issues right now."
Morrisey also spoke out last week about the issue. Tuesday marked the fourth day teachers have been out of class.
"I believe that this is an unlawful action, and we need to enforce the laws in our state," Morrisey said.
He said his office is awaiting information from the West Virginia State Board of Education after a meeting Tuesday night and will decide where to go from there.
Keep checking WSAZ Mobile and WSAZ.com for the latest information.
The West Virginia Attorney General has issued a statement concerning a teacher work stoppage that is planned for this Thursday and Friday.
The statement from Attorney General Patrick Morrisey reads:
"Our teachers and school service personnel are among the state's best and brightest, and I wholeheartedly support their cries for higher salaries and affordable healthcare, however a work stoppage of any length on any ground is illegal.
"Let us make no mistake, the impending work stoppage is unlawful. State law and court rulings give specific parties avenues to remedy such illegal conduct, including the option to seek an injunction to end an unlawful strike.
"This illegal work stoppage affects hundreds of thousands of students and families across our state. Our office is prepared to support any relevant state agency or board with legal remedies they may choose to pursue to uphold the law. We also stand ready to assist and support any county board of education or county superintendent as they enforce the law.
"Any such action would be consistent with my duty as attorney general to uphold the rule of law and designed so as to ensure our students have access to the education they are entitled to by our state's constitution. Breaking the law does not set a good example for our children."
Both teacher unions announced on Saturday that they would participate in a work stoppage on Thursday and Friday. Several schools across our region have said they will be closed including: Kanawha, Putnam, Jackson, Roane, Calhoun, Cabell, Wayne, Lincoln, Logan, Mingo, Boone, Mason, and Clay counties.
The West Virginia Board of Education met Wednesday morning and afternoon. Board members went into executive session but declined to comment on what was discussed, only telling reporters that the board president, state superintendent of schools, attorney general, and governor's office would meet later in the day.
Attorney General Patrick Morrisey's statement was released less than three hours later.