Young girl finds needle at fast food play area in Kanawha County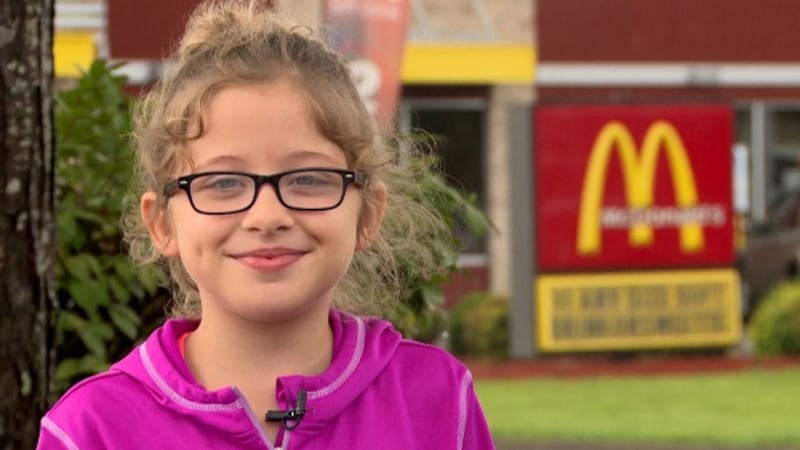 Published: Jul. 30, 2018 at 6:18 PM EDT
Even on rainy days, a trip to McDonald's can make a child's day.
At the Southridge McDonalds, an 8-year-old's play date turned south quickly Friday.
"OK so I was playing," 8-year-old Breylea explains. "I saw something that looked like the top of a needle, and I picked it up and I took it to my mom and said 'what is this?'"
Her mother, Courtney Monk, says she was terrified when she realized what her daughter was holding.
"I look between her fingers, and she has a needle. She got a nick on her finger from the needle, so I took her to the emergency room."
WSAZ's Jatara McGee spoke to a manager at the McDonald's who confirmed the child found a needle and her mother turned it over to restaurant management.
Thankfully, Monk says the needle did not break the child's skin, only scraping the outer layer. The hospital ran tests to see if the child contracted any diseases. She still has several follow-up appointments to make sure she is OK.
Breylea says she knows that needles and syringes can be dangerous but was trying to protect younger children.
"I didn't want my mom's friend's little girl stepping on it and it going up her foot, and I didn't want anybody else to get hurt by it," she says.
McDonald's released the following statement to WSAZ: "Our top priority is always the safety of our customers. We take all claims very seriously and are taking the appropriate measures to fully understand what may have happened in this case. We remain committed to providing a safe place for customers and families to dine."